Ever thought about a career where your love for animals could actually help people too? That's what animal-assisted therapy is all about. This isn't just about cuddling cute animals all day; it's a real career that combines a passion for animals with practical therapeutic skills.
With a growing focus on mental health across Australia, animal-assisted therapy is emerging as a field worth watching. If you're keen to dive in, you'll be glad to know that online courses make entering this field more accessible than ever.
Ready to explore what it takes to step into this impactful career? Let's get started.
Animal-Assisted Therapist Overview
If you're someone who's always been captivated by the healing power of animals, you might find your calling as an animal-assisted therapist. This role is about harnessing the unique qualities animals possess to facilitate therapeutic outcomes in humans.
In Australia, animal-assisted therapists not only work with common domestic pets but also have the opportunity to engage with a larger group of animals (equine therapy, for example). The variety here isn't just about the animals; it's about the diverse range of human conditions that can be eased through these incredible interspecies interactions.
Day in the Life of an Animal-Assisted Therapist

Client Engagement
Assess Needs: Evaluate the emotional, psychological, or physical needs of the client to create tailored therapy plans.
Conduct Sessions: Facilitate client-animal interactions to meet specific therapeutic goals.


Animal Interaction
Animal Selection: Choose the appropriate animal based on the client's needs and the animal's temperament.
Animal Welfare: Regularly assess the health and well-being of therapy animals, ensuring they are fit for sessions.


Collaboration and Consultation
Team Coordination: Work closely with healthcare professionals like psychologists, social workers, and physicians to discuss client needs and treatment plans.
Family Consultations: Sometimes, meeting with a client's family is essential to understand the broader context of the individual's therapeutic needs.


Documentation and Reporting
Session Notes: Maintain accurate records of each therapy session, noting observations, client progress, and any adjustments needed in therapy plans.
Data Analysis: Collect and analyse data to measure the effectiveness of therapy, often used for ongoing treatment plans or academic research.
Animal-Assisted Therapist Skills
To thrive as an animal-assisted therapist, you'll need more than just a love for animals and a knack for helping people. The role demands a well-rounded set of skills.
Animal-Assisted Therapist Soft Skills
Empathy
Communication 
Patience
Adaptability
Observational Skills

Animal-Assisted Therapist Hard Skills
Understanding animal behaviour is non-negotiable. Many people choose to take animal behaviour courses to help them thrive in the role.
Therapeutic Techniques: Familiarity with various therapeutic approaches and when to use them is essential.
Data Collection and Analysis: Being able to gather and interpret data lets you gauge the effectiveness of your therapy sessions, a must for client progress and potential academic research.
Medical Basics: A foundational understanding of basic veterinary care is beneficial, especially for evaluating an animal's suitability for therapy.
Technology Skills: From scheduling software to telehealth platforms for remote sessions, basic tech-savviness is increasingly important.
To succeed in this role, you'll likely need to invest in ongoing education and professional development. 
How Much Can You Earn as an Animal-Assisted Therapist?
According to Labour Market Insights, Animal Attendants & Trainers (similar to animal-assisted therapists) earn an average of $65,000 per year. However, your salary will depend on your location, employer and specific field of work. 
Specialised courses in dog behavioural training and equine psychology, for example, not only enhance your skills but also add credibility to your practice, making it possible to command higher fees for your services. 
Animal Assisted Therapist Employment Outlook
The Australian job market for animal-assisted therapists is steadily growing. 
According to Labour Market Insights, this trend is expected to continue well into 2026 with the number of animal attendants and trainers likely to reach 23,800 in this time.
How to Become a Animal Assisted Therapist 
Interested in a career as an animal-assisted therapist in Australia? You've got more options than ever for getting into this fulfilling field, thanks to the flexibility offered by modern online education platforms.
Online Courses: Online Courses Australia offers specialised courses designed specifically for those looking to work with animals. These courses cover everything you'll need to know—from the intricacies of human-animal interactions to the basics of therapeutic practice. And if you've got a busy schedule, the online format allows you to learn at your own pace, making it easier than ever to launch a rewarding career in animal-assisted therapy. 
Start Your Animal Assisted Therapy Course Today
Why hold off on making your love for animals a fundamental part of your career? With Online Courses Australia, you can dive into the essential skills and knowledge needed for animal-assisted therapy, all from the comfort of your own home.
Our courses provide you with the hands-on skills and foundational know-how you'll need in animal-assisted therapy. From understanding human-animal bonds to mastering therapeutic techniques, we've got you sorted.
Our courses are structured to suit both part-time and full-time commitments, adapting to your unique schedule. Say goodbye to the hassle of commuting or fulfilling prerequisites; top-notch training is now just a click away.
Eager to make a positive impact in the field of animal-assisted therapy? Begin your journey today with Online Courses Australia.
Horse Care & Equine Psychology Course Info Pack
Dog Psychology, Behaviour & Training Info Pack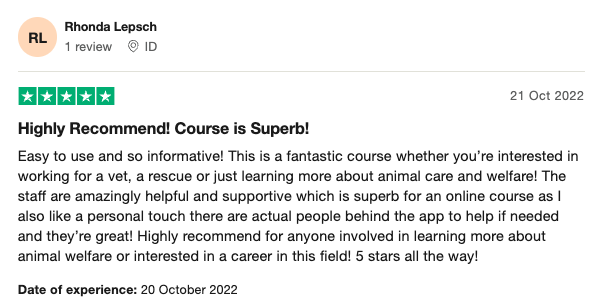 If you have additional questions about our wildlife conservation courses or our full range of courses that cover more than 20 different professional industries:
Related Courses & Roles 
If you have a genuine passion for working with animals, the animal care industry offers a wealth of career options beyond just animal-assisted therapists. 
Here are some related courses and roles to check out:
---
Improve your animal health care career options.