Becoming an HR manager in Australia involves much more than just theoretical knowledge; it requires practical and solid skills in areas like employee relations, performance management, and strategic planning.
Online staff management courses offer a flexible and focused approach to gaining these essential competencies, allowing you to learn while you work, honing specific HR functions and management skills that make you a standout candidate with employers. 
Here's how online study can fast-track your career, taking you from an entry-level role to a leadership position in the HR department.
HR Manager Job Description 
HR managers play a pivotal role in shaping the work environment and driving the success of an organisation. They oversee a range of human resource management functions such as employee relations, staffing, and performance management. 
From crafting job descriptions and overseeing hiring processes to implementing employee benefits and ensuring compliance with employment law, HR managers hold a company's culture and productivity together. 
Day in the Life of an HR Manager 
Overseeing employee relations: Addressing concerns, resolving conflicts, and promoting a positive work environment.
Talent management: Identifying staffing needs, conducting interviews, and managing the hiring processes.
Performance management: Setting goals, conducting evaluations, and implementing improvement plans.
Employee benefits: Administering healthcare, leave policies, and other perks to improve retention.
Compliance: Ensuring the company follows employment law and other regulations related to labour relations.
Strategic planning: Working with other management positions to align HR functions with business goals.
Training and Development: Coordinating professional development programs and onboarding new employees.
Communication: Facilitating open channels between staff and leadership, including company-wide announcements and confidential discussions.
HR Manager Skills
A career in human resources involves a blend of soft skills (skills you likely already have) and hard skills (skills you'd learn through an online management course or other HR career pathways). 
HR Manager Soft Skills
Empathy
Communication
Problem-Solving
Decision-Making
Adaptability
Leadership
Teamwork
Conflict Resolution
Hard Skills for HR Manager
Talent acquisition like sourcing, interviewing, and hiring the best candidates.
Performance management – like setting realistic goals, evaluating employees, and implementing improvement strategies.
Resolving workplace issues and fostering a positive work environment.
Understanding and applying laws and regulations related to human resources.
Mastery of human resources management systems to streamline HR functions.
Gathering and interpreting HR metrics to drive decision-making.
Skills in planning, executing, and overseeing HR-related projects.
Structuring pay scales and understanding employee benefits.
How Much Can You Earn as an HR Manager?
According to Labour Market Insights, HR managers in Australia earn an annual average salary of $127,450. 
HR Manager Employment Outlook 
The employment outlook for HR managers looks strong, according to recent projections by Jobs & Skills Australia.
Over the five years from November 2021 to November 2026, the sector is anticipated to see very strong growth. The number of workers in this role is expected to reach 137,100 by 2026. 
This strong growth means there will be plenty of job openings and a steady career path for people starting or moving up in this role.
How to Become an HR Manager 
If you're aiming to become an HR Manager in Australia, good news—the pathways into this field are now more flexible than ever. Here are some of the best ways to become an HR manager in Australia:
Online Courses: Platforms like Online Courses Australia offer targeted HR manager courses that can set you on the right track. These online modules cover a range of skills, from talent acquisition and performance management to compliance and data analytics. 
Micro-Credentials: These are compact, highly specialised courses that zoom in on specific aspects of being an HR manager. Whether it's mastering interpersonal skills or WH&S skills, micro-credentials offer bite-sized learning that's directly applicable to your role.
Start Your Staff Management Course Today 
Don't wait to make your career dreams a reality—start your HR management course today with Online Courses Australia. 
Offering the ultimate in flexibility, our courses allow you to learn at your own pace, guided by Australian mentors who know the ins and outs of the industry. 
From talent acquisition to employee relations, we equip you with all the essential skills needed to fast-track your journey to becoming an HR manager. 
Take the first step toward a rewarding career in human resource management—download the free course info pack below. 
Advanced Staff Management Course Info Pack Download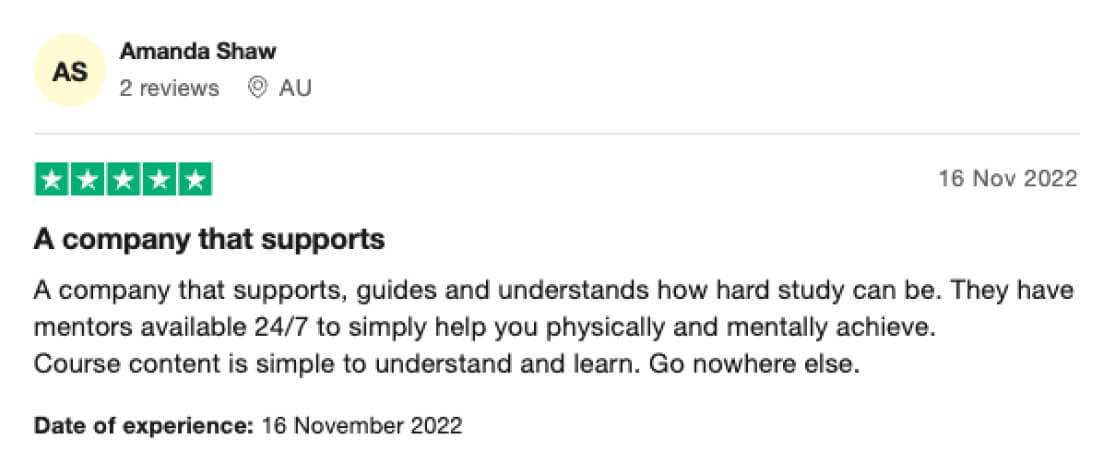 If you have additional questions about our management courses or our full range of courses that cover more than 20 different professional industries: 
Related Courses & Roles 
Here are some related courses and roles to check out:
---
Start a Career in Staff Management Today!