Fast-track learning about the essential leadership skills in decision-making and effective communication to thrive as a team leader. How? An online course in staff management.
The flexibility of an online course allows you to balance current job commitments, meaning you can apply new skills in real time for quicker professional development. From managing a team to creating a positive work environment, online courses equip you with the competencies you need to not just step into a leadership role, but to truly thrive.
Team Leader Job Description 
A team leader is an individual responsible for managing a group of employees to achieve specific objectives. The role involves setting goals, assigning tasks, and ensuring that deadlines are met. While the fundamental responsibilities remain constant, the nature of the work can differ substantially depending on the industry.
For instance, in a manufacturing setting, a team leader might be heavily focused on production quotas and quality control. In a financial services firm, the emphasis might be on client relations and data analysis. 
Despite these industry-specific tasks, the core management skills—like effective communication, decision-making, and problem-solving—are universally applicable. It's these transferable skills that allow a team leader to be effective regardless of the work environment.
Day in the Life of a Team Leader
While no two days are the same for a team leader, below are some common daily duties you'll experience within the role: 
Typical Daily Duties
Assign specific tasks to individual team members, taking into account their competencies and workloads.
Conduct morning huddles or team meetings to disseminate important updates and encourage employee engagement.
Prioritise tasks and allocate resources based on urgency and importance, often needing to make these decisions on a daily basis.
Keep an eye on project milestones and adjust plans or reallocate tasks as needed.
Act as the first point of contact for any team-related issues, from technical hiccups to interpersonal conflicts.
Adapt your approach based on the task at hand and the individual needs of team members, demonstrating flexibility in your leadership qualities.
Foster a positive work environment through transparent and honest feedback, while also displaying emotional intelligence.
Look out for the well-being of team members, offering constructive feedback and support for their professional development.
Update key stakeholders on project status, ensuring alignment with broader organisational objectives.
Team Leader Skills
Being an effective team leader involves a blend of soft skills (skills you likely already have) and hard skills (skills you'd learn through study/learning). 
Team Leader Soft Skills
Empathetic
Motivating
Self-Aware
Adaptable
Communicative
Hard Skills for Team Leaders
Project Management: The ability to oversee a project from conception to completion within a specified timeline and budget.
Technical Proficiency: Depending on the industry, this could mean anything from knowing how to code to understanding retail metrics.
Financial Acumen: The capability to manage budgets, understand financial statements, and make cost-effective decisions.
Data Analysis: Proficiency in interpreting data to make informed decisions, crucial for monitoring progress towards team goals.
Quality Assurance: Ensuring that the product or service meets a certain standard, often requiring an understanding of specific tools or software.
Time Management: Effective planning and control over the amount of time spent on specific activities, enhancing productivity and efficiency.
How Much Can You Earn as a Team Leader?
According to Australian Labour Market Insights, an office manager can earn an average salary of $78,052 per year. Tasked with similar responsibilities and daily duties, a team leader could earn roughly the same. 
However, the more you learn and upskill, the more your earning potential grows. For example, you could combine a course in advanced staff management with performance management to give you a competitive edge. 
Team Leader Employment Outlook 
The job outlook for team leaders appears to be promising, with moderate growth expected over the next five years. According to Jobs & Skills Australia's employment projections, the number of team leader positions is likely to reach 156,500 by 2026. This growth indicates that organisations across various industries are recognising the value of effective team leadership.
How to Become a Team Leader 
Interested in stepping into a team leader role in Australia? You've got a variety of pathways to get there.
Online Courses: Online education platforms like Online Courses Australia provide dedicated courses aimed at fast-tracking your team leader career. These online classes tackle everything from basic team management skills to effective communication.
Micro-Credentials: Think of these as bite-sized learnings that hone in on particular facets of being a team leader. Great for filling in any skill gaps you might have.
Start Your Staff Management Course Today
Looking to elevate your career as a team leader? Online Courses Australia allows you to start your journey right from your own home.
Courses Designed for Real-World Skills
We offer a curriculum focused on the practical skills and foundational knowledge you'll need to excel as a team leader. From effective communication to team management, we've got you covered.
Flexible Learning for Your Lifestyle
Whether you're working full-time or part-time, our courses are designed to fit your schedule. No more commuting or prerequisites—high-quality training is now more accessible than ever.
Ready to make an impact in the world of team leadership? Start your journey today with Online Courses Australia.
Advanced Staff Management Info Pack Download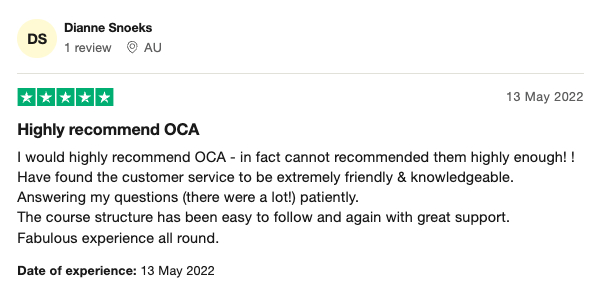 If you have additional questions about our management courses or our full range of courses that cover more than 20 different professional industries: 
Related Courses & Roles
If you have a genuine passion for leading and managing others in the workplace, here are some related courses and roles to check out:
---
Start a Career in Staff Management Today!