Embarking on a career as a mental health worker in Australia is not just a job; it's a rewarding career path that offers the chance to make a positive impact on individuals and communities grappling with mental health issues.
Whether you're considering a career as a mental health support worker or looking to specialise in mental health programs, you're likely wondering how to kickstart this fulfilling journey.
An online course in mental health is a great place to begin. But to find out more about how to get a head start in this meaningful career, keep on reading! 
Mental Health Worker Overview
A mental health worker provides support to individuals dealing with mental health issues, often working alongside social workers, mental health nurses, and other healthcare providers.
Their duties can range from assisting with daily activities and advocating for client needs, to implementing tailored mental health programs.
Whether you're a support worker or specialising in mental health services, your role aims to make a positive impact on the well-being of others. 
Day in the Life of a Mental Health Worker 
A typical day for a mental health worker in Australia is diverse and dynamic, tailored to the specific needs of the clients they serve. 
Typical Daily Duties
Morning Briefing: Start the day with a quick team meeting to set priorities.
Client Assessment: Review client files to tailor your approach for the day.
Individual Support: Offer one-on-one emotional and practical guidance to clients.
Group Therapy: Lead or assist in group sessions that focus on shared challenges.
Documentation: Keep accurate records of client interactions, treatments, and plans.
Resource Coordination: Connect clients with additional services or community support.
Family Liaison: Provide brief updates and support tips to clients' families.
Skill Development: Dedicate time to professional growth, such as reading relevant articles or attending webinars.
Safety Checks: Ensure the environment is secure and conducive to clients' well-being.
End-of-Day Summary: Wrap up by reviewing accomplishments and setting goals for the next day.
Mental Health Worker Skills
If you're thinking about a rewarding career in the mental health sector in Australia, there's a mix of soft and hard skills that you'll need to thrive. These skills are crucial whether you're aiming to be a mental health support worker, specialise in substance abuse programs, or advocate for clients in community services.
Mental Health Worker Soft Skills
Listening Skills
Communication Skills
Emotional Intelligence
Conflict Resolution
Empathy
Interpersonal Skills 
Hard Skills for Mental Health Workers
By undertaking a mental health worker course, you'll equip yourself with the relevant practical skills to kick-start your career with the following skills:
Disorder Identification: Ability to diagnose both mental and physical health disorders across various age groups.
Nutritional Proficiency: Knowledge of how lifestyle and nutrition impact mental well-being, particularly for younger age groups.
Environmental Analysis: Skills in evaluating social and environmental factors that could affect mental health.
Emotional and Psychological Assessment: Proficiency in identifying emotional and psychological health concerns.
Holistic Care Planning: Expertise in developing comprehensive, age-specific care plans that consider physical, emotional, and psychological needs.
Resilience Building: Understanding of methods to enhance resilience for improved mental well-being, tailored to different age groups.
Treatment Planning: Skills in devising recovery-focused care plans and treatment pathways for adults and children.
How Much Can You Earn as a Mental Health Worker?
The average annual salary for a counsellor is $86,000 per year, according to Labour Market Insights in Australia. A mental health worker is in a similar field, so you can expect a similar salary. 
However, there is the potential to earn more when you undertake further study, for example, a complementary course in allied health assistance can potentially boost your earning potential. 
Mental Health Workers Employment Outlook 
The Australian job market for counsellors and mental health workers has been steadily growing over the past five years.
The sector is expected to continue to grow strongly, with the number of counsellors in Australia reaching 27,800 by 2026, according to Jobs & Skills Australia. 
What does this mean for you? If you're keen to get started in the healthcare and mental health industry, there's never been a better time. 
How to Become a Mental Health Worker
Interested in becoming a mental health professional? There are several mental health career pathways to get you there.
Online Courses: Platforms like Online Courses Australia provide targeted mental health courses to set you on the right career path. These courses cover a wide range of skills, from diagnosing disorders and environmental analysis to resilience building and treatment planning. Online study offers the flexibility you need if you're juggling other life commitments.
Micro-Credentials: If you're looking to upskill quickly or focus on a specific area, micro-credentials could be the way to go. These are concise courses that zero in on particular aspects of mental health work, such as counselling skills, micro-credentials, emotional well-being, or even relationship counselling. 
Start Your Mental Health Course Today 
Have a knack for helping people and a keen interest in mental health? Turn your passion into a rewarding career with Online Courses Australia. Start your mental health course training right from the comfort of your own home.
A Curriculum that Works for You
Our courses are tailored to give you the practical skills and foundational knowledge you'll need to excel in this field. From disorder identification and emotional assessment to resilience building and holistic care planning, we've got you covered.
Flexibility on Your Terms
Whether you're considering a part-time or full-time role in the mental health sector, our courses are designed to fit your lifestyle. No need to worry about the daily commute or meeting specific prerequisites; quality training is now accessible anytime, anywhere.
Your Journey Starts Today
Ready to make a meaningful impact as a Mental Health Worker? Your journey into this fulfilling career begins today with Online Courses Australia.
So why wait? Take the first step towards a career where you can truly make a difference.
Mental Health Course Info Pack Download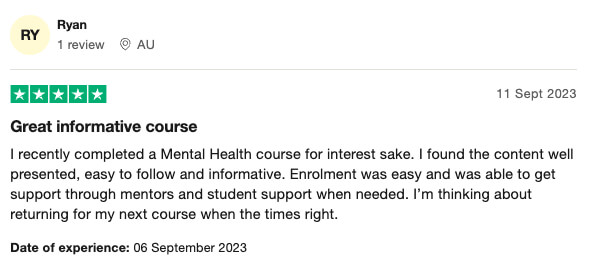 If you have additional questions about our mental health courses or our full range of courses that cover more than 20 different professional industries: 
Related Courses & Roles 
If you have a genuine passion for helping others, the allied health industry offers a wealth of career options beyond mental health work. 
Here are some related courses and roles to check out:
Read More
---
Begin Your Mental Health Career Today!