If you're looking to become a makeup artist in Australia, there are plenty of options to get started. From online makeup artist courses to hands-on experience, there's a way for everyone to pick up the essential skills you'll need to do well from day one.
Keep reading to find out how to break into the makeup industry here in Australia, what skills you should focus on, and how to set yourself up for success.
Makeup Artist Overview
A makeup artist is your go-to person when you want to look and feel your best. Makeup artists undertake a range of work – from glamming up brides to creating special effects for films.
The thing is – makeup artists aren't just about makeup application; they're about making you feel like a million bucks, whether it's for a photo shoot or just a night out.
It's a career that blends creativity with real-world skills like communication and time management. Whether freelancing or working in a beauty salon, it's a job that never gets old.
Day in the Life of a Makeup Artist 
A day in the life of a makeup artist in Australia is incredibly diverse. From initial consultations to client appointments to behind-the-scenes admin, no two days are the same. 
Key Tasks and Responsibilities for a Makeup Artist
Consultation: Understanding different skin types and face shapes to recommend the best makeup looks.
Makeup Application: From bridal makeup to fashion makeup for photoshoots, applying the right type of makeup artist skills is crucial.
Skincare: Prepping the skin before makeup application, often involving a range of skincare treatments.
Hair Styling: In some cases, a makeup artist will also handle basic hairdressing or hair styling tasks.
Social Media Updates: Capturing before-and-after photos or short videos for your own makeup artist's social media profiles, especially if you're self-employed.
Whether you're part-time or full-time, in a salon or freelancing, your day is a mix of creativity, technical skill, and a good bit of people smarts. Every day is a new opportunity to create something beautiful.
Makeup Artist Skills
Stepping into the world of makeup artistry isn't just about nailing the right makeup looks or knowing your makeup products inside out—it's about combining both hard and soft skills to stand out as a true professional.
Makeup Artist Soft Skills
Communication Skills: Being clear and understanding helps in nailing the client's desired look.
Customer Service: Creating a welcoming and comfortable atmosphere, especially if you're working in a beauty salon.
Attention to Detail: Whether it's for special events or photoshoots, every stroke counts.
Time Management: Managing appointments efficiently, so everyone leaves happy.
Stress Management: Keeping cool, especially when the beauty salon is bustling or when working on more complex projects like special effects makeup.
Sales Skills: Whether upselling makeup services or products, knowing how to pitch is key.
Teamwork: Working well with other providers and staff is especially important in larger beauty services setups.
Hard Skills for Makeup Artists
These are skills necessary to truly thrive as a makeup artist – skills you'd learn from undertaking a makeup artist course or beauty course.
Makeup Techniques: From basic makeup application to special effects, mastering various methods is crucial.
Product Knowledge: Knowing what goes into each product so you can make educated recommendations.
Sanitisation and Hygiene: Keeping your workspace clean to protect both you and your clients.
Skin Analysis: Being savvy in assessing different skin types to tailor makeup services accordingly.
Business Management: This is especially important if you're planning to be a freelance makeup artist or run your own beauty salon. It covers everything from budgeting to marketing.
Record-Keeping: Maintain client profiles, including treatment history and consent forms, both for safety and to enhance customer service.
How Much Can You Earn as a Makeup Artist?
According to Labour Market Insights Australia, beauty therapists (similar to makeup artists) can make $62,400 a year on average. 
However, the more you invest in honing your skills and expanding your makeup knowledge, the higher your earning potential climbs. 
Whether it's through continued education or specialising in sought-after skills like eyelash extensions or running your own beauty business, the sky's the limit when it comes to boosting your income.
Makeup Artist Employment Outlook 
Recent employment projections by the JSA show the makeup sector is on the upswing.
The future looks bright for the makeup artist field, with the industry set to grow in the next few years. By 2026, it's expected that there'll be around 42,400 people working in this area.
So, what's the takeaway for you? Well, if you're thinking about a career as a makeup artist, now's a good time to jump in. There's a rising demand for skilled folks, so both newbies and those with experience have a great chance to make their mark.
How to Become a Makeup Artist 
If you're drawn to the idea of making people look their best, a career in makeup artistry could be a good fit for you. There are multiple routes to acquire the skills you'll need to succeed in the makeup industry.
Online Makeup Courses: The digital era has made it convenient to learn makeup artistry from your own home. Platforms like OCA offer comprehensive training while giving you the flexibility to manage other commitments in your life.
Focused Training: Another increasingly popular option is short courses, or what some call micro-credentials. These zero in on particular aspects of makeup artistry—like applying lashes & tint or makeup fundamentals—enabling you to upskill rapidly. This focused training can also help you stay current in a fast-paced industry.
Hands-On Experience: Practical experience is invaluable. Working in a beauty salon, doing makeup for special events, or assisting a professional makeup artist can give you a firsthand look at the field. It may also open doors to apprenticeships or even full-time roles in makeup artistry.
Start Your Makeup Artist Course Today 
Turn your love for all things beauty into a fulfilling job. With Online Courses Australia, gain essential makeup artistry skills from anywhere in the world.
Our courses provide you with hands-on experience and the foundational know-how to make it big in the makeup industry. From learning about different skin types to mastering special effects makeup techniques, we've got everything you need.
Suitable for both part-time and full-time commitments, our courses are tailored to fit your life. Say goodbye to the hassle of long travel times and prerequisite requirements; top-tier makeup education is just a click away.
Keen to make a splash in the world of makeup artistry? Start your career path with Online Courses Australia today.
Makeup Artistry Course Info Pack Download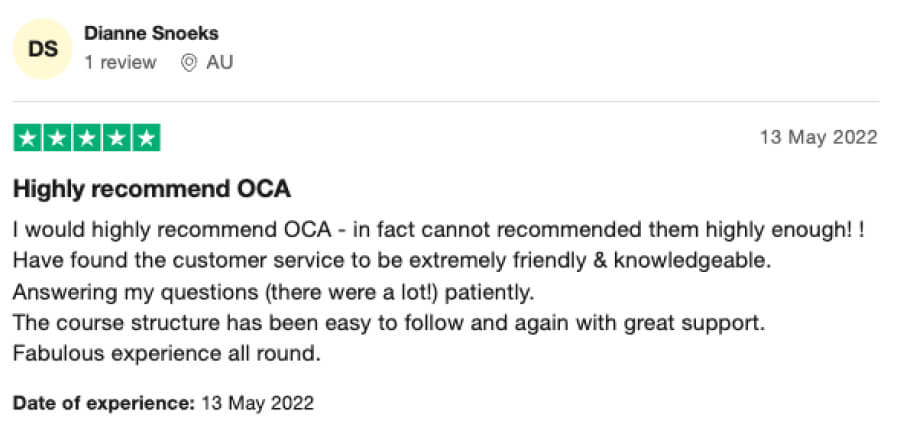 If you have additional questions about our makeup courses or our full range of courses that cover more than 20 different professional industries: 
Related Courses & Roles 
There are countless job opportunities and career paths to take in the makeup industry. Here are some related courses we think you'll love! 
Check out these beauty, lifestyle & leisure courses:
Read More
---
Exclusive access to over 200 hours of highly produced content