Most of you have big dreams when you embark on your career journey. Many unforeseen factors can stop you from achieving your dream role, whether you're pursuing a vet nurse job or an education support role. We aim to help with that with our new careers and job portal.
Introducing
Careers by Online Courses Australia,
 an online portal that combines job opportunities nationwide, career tools and leading Micro-Credentials & Pathway courses for up-skilling and re-skilling.
Online Courses Is With You Every Step Of The Way:  
At OCA, we're very proud to introduce this new job service, particularly as it aligns with our company vision to help Australians reach their full potential. All of our online education courses come with a one-to-one mentor, with each mentor having a deep understanding of their industry and a complete understanding of what's required to succeed. This means that the career support we provide starts when you enrol, as you're personally coached and assisted throughout your learning journey. Combined with 24/7 tutorial support, our students get all the help they need to successfully complete their course and thrive in their chosen industry.
During study or after completion, you can check out our live job board. It only takes one introduction at the right moment to open the door to your new career, and we can make those opportunities happen for you.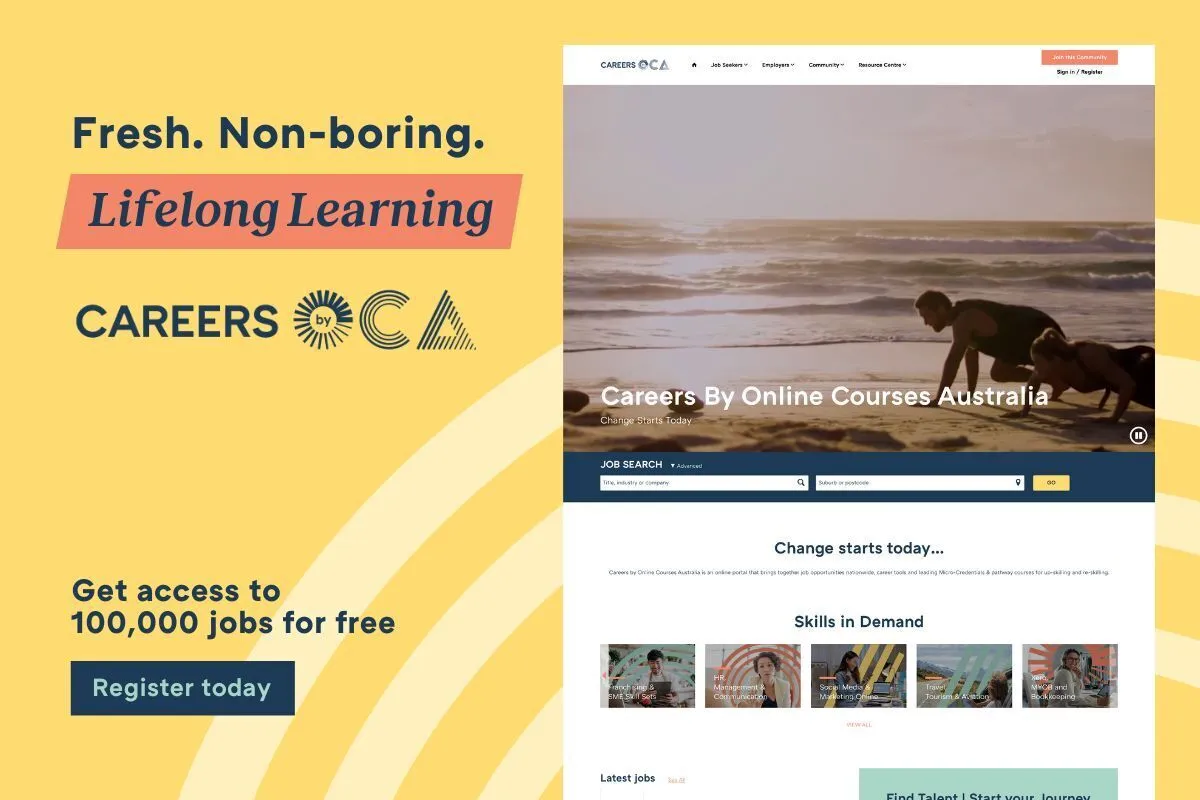 Is Getting A Job In Australia Hard?  
With just a 3.5% unemployment rate in Australia, the job market is a fierce one. So, it pays to think out of the box when trying to make yourself more employable. The good news is that you can find everything you need with OCA, with online study courses, jobs and employment support all on offer.
How Can I Get My Dream Job In 2022?  
Well, we're glad you asked. Getting your dream job means creating the conditions for success and working on yourself. That's something we can absolutely help you with. We're already known for offering highly-stimulating micro credential online education courses, but we can now help you, even more, thanks to our fantastic new job portal.
How Does The Job Portal Work?
Essentially, our online courses can give you the skills and knowledge you need to enter roles that span more than 20 different industries.  All of our courses are CPD Endorsed too, which means every hour taken equals one valuable point! If you have also completed one of our pathway courses, you will also receive formal credit towards an endorsed qualification with one of our amazing RTO or University partners.
And NOW, we can assist you to find the right employer with a live nationwide job board on which you'll find real-life opportunities to take your career to the next level. As such, we can help you train AND find employment! 
Once you have your CV created perfectly, you can simply upload yours to our portal, and it will work for you silently, potentially attracting employers looking for people with your skills. It's the kind of joined-up service that will help you get ahead in the modern professional arena.
We Work Directly With Leading Employers To Upload Jobs!
Online Courses Australia has a dedicated team working to engage with employers to post jobs that directly align with the courses we offer.  We offer our employers great incentives and they get access to YOU! This is what employers are looking for.
Our new Online Courses Australia careers & job portal makes it easier for talented people to find jobs and simplifies the task of finding the right people for employers. As such, companies can upload job vacancies and smart match jobs to CVs that have been added by job seekers. 
Online Courses  + OCA Careers & Job Portal = Professional Success. 
So, if you're someone who's looking to broaden your professional horizons, we encourage you to come and visit us at Online Courses Australia. Here you'll find a huge range of suitable online courses to take your career to the next level, and we offer an immersive and mentally stimulating learning experience.
This is because our courses are like a playlist of learning (allowing you to fit small bit size content around your current obligations) and mostly video-led, meaning that they're easy to digest when you have a spare 10 minutes. Viewable by PC, laptop, tablet or smartphone, they represent an evolution in online learning. Watch our Student Study Demo to get a closer look.
While on our website, you'll also see a selection of flexible payment plans to make your training more affordable. Or why not take a look around our new job portal and upload your CV so that employers can see you right away? You could be a whole lot closer to your dream job after just a couple of clicks.
Then when you're ready, check out our Careers portal, upload your AIRCV and start connecting with great employers.
You've probably got lots of questions to ask, and we're more than happy to answer any you might have. Getting those answers is simple, as you just need to get in touch. You can do so by calling us on 1300 611 404 or by emailing us at support@onlinecourses.com.au. As soon as we hear from you, we'll do our very best to get back to you as soon as we can. 
---