To become an interior designer in Australia, you can take several paths, but one of the best ways to fast-track your career is by enrolling in interior design courses.
Online courses provide a structured curriculum that covers essential design principles, space planning, computer-aided design (CAD) skills, and more so you can achieve your dream of becoming an interior designer faster.
Here's what you need to know to get started. 
What Does An Interior Designer Do?
An interior designer is a specialist in the art of crafting and beautifying interior spaces within homes and commercial buildings. Their role involves close collaboration with clients' needs to grasp their requirements, preferences, and budget constraints. With their expertise, they transform these insights into functional and visually appealing living and working environments.
Day in the Life of an Interior Designer 
An interior designer's job involves identifying client needs, creating a plan, and managing space transformation. Daily tasks may include:
Typical Daily Duties
Regularly engage with clients to understand their interior design needs and preferences.
Develop design plans and layouts, considering elements like colour schemes, functionality, and interior architecture.
Utilise computer-aided design (CAD) software for creating visual representations and plans.
Ensure designs adhere to building codes and regulations in Australia.
Oversee design projects from concept to completion, managing timelines and budgets.
Carefully plan and arrange interior spaces for optimal functionality.
Select appropriate colour schemes that align with clients' preferences and design goals.
Incorporate sustainable design principles into projects, considering eco-friendly materials and practices.
Work closely with tradespeople, architects, and other professionals involved in the project.
Stay informed about the latest trends and innovations in the interior design industry through courses and workshops.
Interior Designer Skills
Contemplating a new career path as an interior designer? As an aspiring interior designer, you'll need a blend of soft skills (skills you likely already have) and hard fundamental skills (skills you'd learn through interior design courses). 
Interior Designer Soft Skills
Communication Skills
Creativity
Problem-Solving
Adaptability
Attention to Detail
Client Relationship Management
Time Management
Team Collaboration
Hard Skills for Interior Designers
Proficiency in CAD software like AutoCAD or SketchUp to create precise and detailed design plans and 3D models.
The ability to efficiently utilise and arrange interior spaces, considering functionality, flow, and aesthetics.
Understanding and staying updated with local building codes and regulations in Australia to ensure design compliance.
Expertise in selecting appropriate materials, furnishings, and fixtures for projects while managing procurement within budget constraints.
A deep understanding of colour psychology and how to create harmonious and visually appealing colour schemes.
Proficiency in using 3D visualisation tools to help clients better understand and visualise design concepts.
Knowledge of eco-friendly materials and practices to incorporate sustainable design elements into projects.
The ability to create and manage project budgets, estimating costs for materials, labour, and other expenses.
Skills in overseeing and coordinating various aspects of a design project, including scheduling, budgeting, and working with contractors.
Advanced skills in AutoCAD software, which is commonly used for creating technical drawings and plans in the field of interior design.
How Much Can You Earn as an Interior Designer?
According to Market Labour Insights Australia, Australian interior designers can earn an annual salary of $82,472. 
Interior Designer Employment Outlook 
The Australian job market for interior designers has been steadily growing over the past five years.
And, according to Jobs & Skills Australia, the sector is expected to grow very strongly, reaching a projected 27,200 jobs by 2026. 
This means if you're considering starting a career as an interior designer, there's never been a better time. 
How to Become an Interior Designer 
There's a wide range of entry pathways to becoming an interior designer in Australia, with more choices than ever before.
Online Courses: Platforms such as Online Courses Australia offer specialised interior design courses providing an excellent starting point in this dynamic field. These online modules cover essential skills, from practical design principles to project management.
Micro-Credentials: These are concise, specialised micro-credentials that target specific aspects of working as an interior designer – creating and managing budgets –  allowing you to gain an extra skill set in the industry.
Apprenticeships: Gaining hands-on experience can be one of the most valuable steps toward becoming an interior designer. Volunteering your time outside of regular work hours can provide a firsthand insight into the profession.
Work Experience: Securing work experience or internships with established designers or design firms is another effective way to develop practical skills and build your portfolio in the field of interior design. 
Start Your Interior Designer Course Today 
Don't put off transforming your passion for interior design into a rewarding career. Online Courses Australia offers you the opportunity to begin mastering the art of interior design right from the comfort of your home.
Get Job-Ready
Our courses provide you with the practical skills and essential knowledge needed to thrive in this field. Whether you're pursuing a career in residential or commercial interior design, we've got your needs covered.
Flexible Learning
Designed to accommodate both part-time and full-time commitments, our courses are tailored to your schedule. Say goodbye to commuting hassles and prerequisites; top-quality training is accessible wherever you are.
Don't Delay – Start Today 
Your journey towards a fulfilling career in interior design starts today with Online Courses Australia.
Interior Design Info Pack Download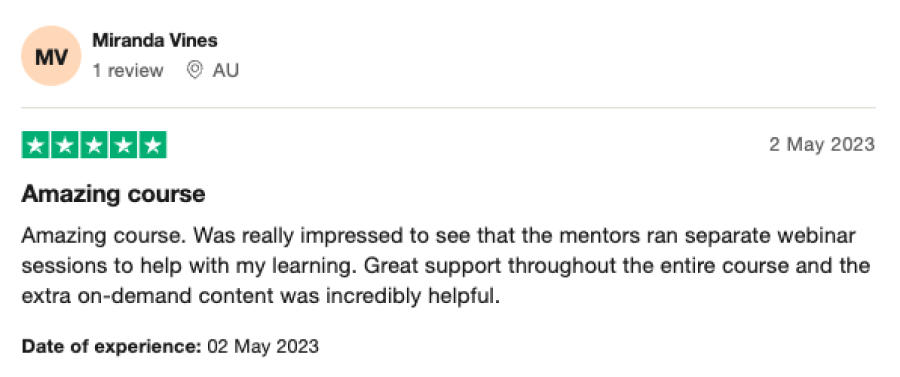 If you have additional questions about our interior design courses or our full range of courses that cover more than 20 different professional industries:
Related Courses & Roles
Want more from your interior design career? Here are some related courses and roles to check out:
---
Start a Career in Interior Design Today!