Looking to pursue a career in the design industry as an interior decorator? The quickest path to becoming job-ready is via an online interior decoration course.
Online Courses Australia's online courses and micro-credentials provide comprehensive training, covering essential skills and knowledge in interior decoration, colour theory, and design trends.
With the flexibility of online learning, you can study at your own pace, gain hands-on experience, and build a strong foundation for a successful career in creating beautiful interior spaces.
Here's everything you need to know to get started. 
What Does An Interior Decorator Do? 
Interior designers plan and create functional and aesthetically pleasing interior spaces, focusing on colour theory and colour schemes, design trends, and client needs. They may work for firms or run their own design business, utilising their skill set in creative space planning to deliver innovative solutions. 
Day in the Life of an Interior Decorator 
An interior decorator's job involves identifying client needs, creating a plan, and managing space transformation. Daily tasks may include:
Typical Daily Duties
Create interior design concepts for various projects.
Understand and address client requirements and preferences.
Communicate ideas and concepts effectively with clients and team members.
Stay updated on current design trends and incorporate them into projects.
Manage multiple projects, ensuring they stay on track and within budget.
Apply architectural principles to design interior spaces.
If self-employed, handle business operations and find new potential clients.
Offer expert interior design consultation services.
Build and maintain relationships with potential and existing clients.
Oversee the execution of design plans and ensure their successful implementation.
Interior Decorator Skills
Contemplating a new career path as an interior decorator? As an aspiring interior decorator, you'll need a blend of soft skills (skills you likely already have) and hard fundamental skills (skills you'd learn through interior decoration or interior design courses). 
Interior Decorator Soft Skills
Communication Skills
Creativity
Detail-Oriented
Problem-Solver
Empathetic
Adaptable
Efficient
Collaborative
Hard Skills for Interior Decorators 
Colour Theory: Proficiency in understanding and applying colour principles.
Space Planning: Expertise in optimising interior layouts for functionality.
Material Selection: Familiarity with various materials and finishes for interior design.
Furniture Knowledge: Understanding of furniture styles, trends, and selection.
Fabric and Textiles: Knowledge of textiles, fabrics, and their applications.
Project Management: Ability to manage projects from concept to completion.
Technical Drawing: Skill in creating detailed interior design drawings.
Budgeting: Capable of creating and managing project budgets.
Trend Awareness: Keeping up-to-date with current design trends.
Presentation Skills: Ability to present design concepts professionally.
Sustainability: Understanding of sustainable design principles and materials.
Software Proficiency: Mastery of design software such as Adobe Creative Suite.
How Much Can You Earn as an Interior Decorator?
According to Market Labour Insights Australia, Australian interior decorators (which fall under the Technicians and Trades Workers occupation profile) can earn an annual salary of $69,212. 
However, if you run your own business your earning potential could be much higher depending on how many clients you take on each month or year.  
Interior Decorator Employment Outlook 
The Australian job market for Interior Decorators has been steadily growing over the past five years.
And, according to Jobs & Skills Australia, the sector is expected to grow moderately, reaching a projected 22,100 jobs by 2026.  
This means if you're considering starting a career as an interior decorator, there's never been a better time. 
How to Become an Interior Decorator  
There are multiple entry pathways to becoming an interior decorator in Australia. Here are some that can fast-track your career and get you job-ready sooner: 
Online Courses: Platforms like Online Courses Australia offer specialised interior design & decoration courses, providing a solid foundation in this dynamic field. Our modules cover crucial design skills, from practical design principles to project management.
Micro-Credentials: Explore concise, specialised short courses targeting specific aspects of interior decoration, such as budget creation and management. These credentials enhance your skill set in the industry.
Apprenticeships: Gaining hands-on experience is invaluable. Consider volunteering your time outside of regular work hours to gain firsthand insights into the profession.
Work Experience: Secure internships or gain experience with established decorators or design firms to develop practical skills and build your portfolio in interior decoration. 
Start Your Interior Decorator Journey Today  
Don't hesitate to turn your passion for interior decoration into a fulfilling career. Online Courses Australia offers you the opportunity to begin mastering the art of interior decoration from the comfort of your own home. 
Get Job-Ready Skills
Our courses equip you with the practical skills and essential knowledge necessary to excel in this field. Whether you aspire to work in residential or commercial interior decoration, we have you covered.
Flexible Learning
Our courses are designed to accommodate both part-time and full-time commitments, tailored to your schedule. Say goodbye to commuting hassles and prerequisites; you can access top-quality training from anywhere.
Get Started Now
Your journey towards a rewarding career in interior decoration begins today with Online Courses Australia. 
Interior Design Info Pack Download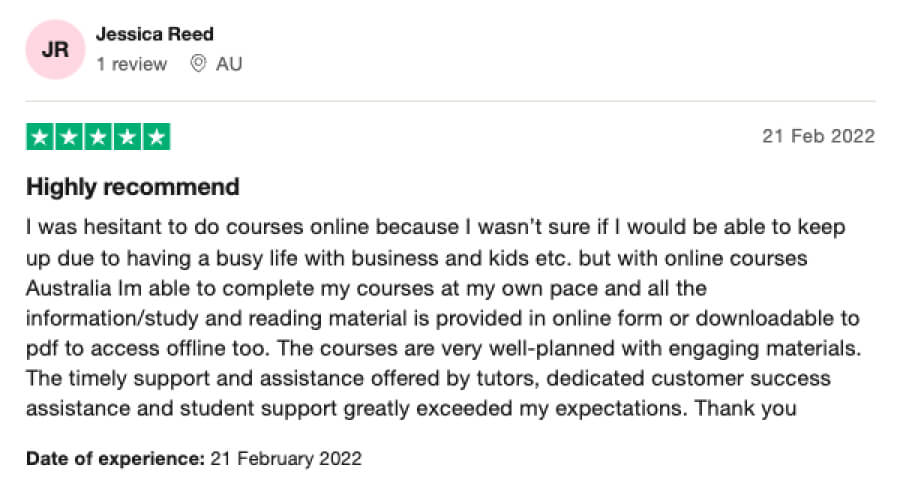 If you have additional questions about our interior decoration courses or our full range of courses that cover more than 20 different professional industries: 
Related Courses & Roles 
Want more from your interior decoration career? Here are some related courses and roles to check out:
---
Start a Career in Interior Design Today!