Interested in making a difference for young Australians facing emotional, behavioural, or social challenges? Child, youth and family intervention work could be your calling.
The good news is formal study isn't your only route into the role. Counselling courses also offer a strong entry pathway into the youth sector.
Read on to learn about the responsibilities and skills needed as a youth support worker, and how you can secure your first role in the rewarding career of youth work. 
Youth Worker Overview
Youth workers serve a critical role in guiding young people through emotional, behavioural, or social challenges. These professionals often work in community development and services and may specialise in areas like youth justice, youth homelessness, mental health, or family support. Their work can vary from mentoring and outreach to case management and child protection. 
With a focus on making positive changes, youth workers collaborate with local authorities, social workers, and healthcare providers to offer comprehensive support services to young people in need.
Day in the Life of a Youth Worker
While no two days are the same for a youth worker, there are some of the typical daily tasks you'll undertake in the role: 
Typical Daily Duties
Mentoring: Offer guidance and emotional support to young people facing various challenges.
Case Management: Assess individual needs and develop tailored support plans.
Outreach: Engage with young people in community settings to provide resources and support.
Behavioural Assessment: Monitor and evaluate behavioural patterns to better support the young person's development.
Collaboration: Work closely with local authorities, social workers, and healthcare providers to ensure coordinated services.
Family Support: If you specialise as a family support worker, you will assist in resolving family issues that may be affecting the young person's well-being.
Youth Services Planning: Develop and facilitate workshops, group activities, or community events aimed at empowering young people.
Monitoring Mental Health: Keep an eye on signs of mental health issues and collaborate with healthcare providers for treatment if necessary.
Communication: Maintain clear and effective communication with young people, their families, and other professionals involved in their care.
Child Protection: Ensure all activities and interactions comply with child protection policies and procedures.
Youth Worker Skills
To be a successful youth worker, you'll need a blend of soft skills (skills you likely already have) and hard skills (skills you'd learn from undertaking some level of study in mental health and youth work). 
Youth Worker Soft Skills
Patience
Empathy 
Adaptability
Listening
Communication Skills
Teamwork
Resilience
Hard Skills for Youth Workers
Community Sector Expertise: Ability to navigate and contribute to community services (e.g. social work), understanding local protocols and organisational structures.
Behavioural Support: Proficiency in developing and implementing individualised behavioural support plans.
Cultural Competency: Skills in working effectively with culturally diverse clients and co-workers, including an understanding of cultural sensitivities and norms.
Health & Emotional Well-being: Capable of assessing and supporting individual physical and emotional health needs.
Counselling Skills: Experience in establishing and maintaining a counselling relationship, as well as conducting interviews that facilitate emotional and psychological support.
Personality & Development Theories: Knowledge of key theories relating to personality and human development, and how to apply these in a counselling context.
Client Assessment: Skills in determining the suitability of a client for different types of counselling services.
Resilience Training: Know-how in techniques that foster learning resilience in adulthood, particularly beneficial for clients facing substantial life changes or stressors.
How Much Can You Earn as a Youth Worker?
Based on Labour Market Insights, the average salary for a youth worker could be comparable to that of a welfare support worker, at around $76,000. This aligns closely as youth work falls under the broader umbrella of community support roles.
Youth Worker Employment Outlook
Looking at the latest employment projections from Jobs and Skills Australia, the future of youth work is strong.
The data spans from November 2021 to November 2026 and points to solid growth in support roles, estimating the number of youth workers could reach nearly 95,000 by 2026.
This uptick in numbers shows there's increasing demand in areas like youth justice and mental health. So, if you're thinking about a career in youth work, there'll be plenty of opportunities.
How to Become a Youth Worker 
Interested in becoming a youth worker? There are several ways to get your foot in the door in this impactful profession.
Online Learning: Education platforms like Online Courses Australia have specific courses that will equip you with the must-knows for youth work, from counselling courses to mental health courses. Plus, if you're juggling other commitments, online courses offer the flexibility you might need.
Short Courses: If you're looking to get your foot in the door and test the waters, a short course or micro-credential in counselling might be the right move. These courses give you a taste of what working as a youth worker might be like, and help you decide if you want to undertake further study. 
Hands-On Experience: For some invaluable real-world insights, think about volunteering in community services. It's a great way to see what the job's really like and could give some specialisation and relevant experience when you're looking for paid work.
Start Your Online Mental Health Course Today 
Looking to make a meaningful impact in the lives of young people? With Online Courses Australia, kickstart your career in youth work right from the comfort of your own home.
Courses to Arm You with the Right Knowledge
Our community support courses provide you with the essential skills and know-how you'll need in the youth sector. Whether your interest lies in mental health, behavioural support, or community services, we have a course that's right up your alley.
Study When It Suits You
Our course structure accommodates both full-time and part-time schedules, offering you the flexibility you need. Skip the lengthy commutes and stringent entry requirements; quality education is just a click away.
Ready to dive into a career that matters? Your learning journey begins today with Online Courses Australia.
Counselling Course Info Pack Download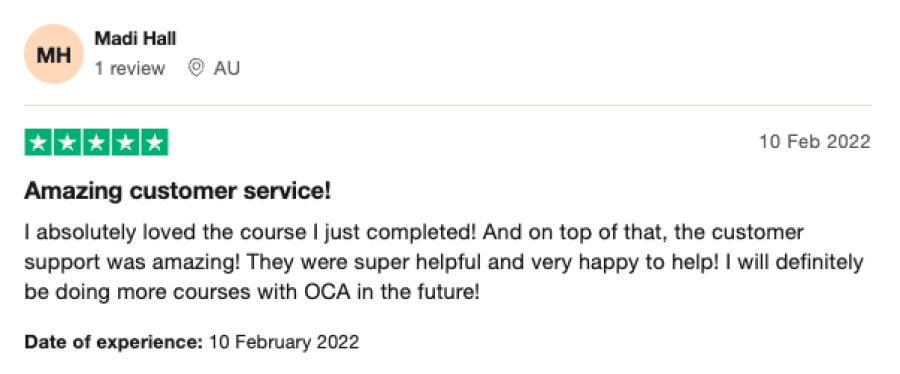 If you have additional questions about our counselling courses or our full range of courses that cover more than 20 different professional industries: 
Related Courses & Roles 
If you have a genuine passion for helping others, here are some related courses and roles to check out:
---
Start a Career in Counselling Today!