Becoming a wedding planner in Australia is all about turning dreams into 'I do's. It's a great venture for those with a flair for detail and a passion for creating magical moments.
By diving into courses from providers like Online Courses Australia, you'll pick up wedding planning and entrepreneurial skills to launch and start your own business.
It's practical, with a sprinkle of romance—a career that's as rewarding as it is demanding.
What Does a Wedding Planner Do?
A wedding planner is the go-to person for everything related to wedding day magic. They handle the planning process, coordinate with vendors and venues, and keep everything running on time. Good planners are a mix of event management pros and problem-solving geniuses, juggling tasks like pricing and client consultations with ease. With a knack for turning a vision into reality, they ensure the special day goes off without a hitch, making them a key player in the wedding industry.
Day in the Life of a Wedding Planner
No two weddings are the same, so no two days for a wedding planner are the same either! It's an exciting and varied career, and a typical day in your life as a wedding planner may look like: 
Typical Daily Duties
Consulting with clients to pinpoint their vision for the big day and mapping out the planning process.
Crafting detailed business plans and pricing proposals for the wedding planning business.
Scouting and securing wedding venues and negotiating with wedding vendors.
Managing event planning timelines and ensuring all aspects of the wedding are on track.
Creating and maintaining a strong presence on social media to attract potential clients.
Offering personalised attention to orchestrating the special day, reflecting each couple's unique type of wedding.
Leveraging problem-solving skills to handle any unexpected issues during the wedding event.
Providing templates and checklists to ensure nothing is overlooked in the wedding coordination.
Seeking out continuing education, like a wedding planner course, to enhance event management expertise.
Wedding Planner Skills
To become a successful wedding planner, you'll need a blend of soft skills (skills you likely already have) and hard skills (skills you'd learn via dedicated wedding planning courses and entrepreneur courses). 
Wedding Planner Soft Skills
Exceptional communication
Strong attention to detail.
Creative thinking and vision
Patience and flexibility
High emotional intelligence
Hard Skills for Wedding Planner
By undertaking a wedding planning skills course combined with a course in entrepreneurship, you'll equip yourself with the relevant practical skills to kick-start your career. Here's what you can learn:
In-depth knowledge of event planning and coordination.
Business acumen for running and growing a wedding planning enterprise.
Leadership qualities to manage teams and coordinate with vendors.
Financial management for budgeting and pricing.
Entrepreneurial skills to innovate and drive business success.
Marketing expertise, especially in digital marketing to leverage social media and online platforms.
Negotiation skills to work out deals with venues, suppliers, and vendors.
Time management to juggle various tasks and deadlines efficiently.
Familiarity with contract law and event insurance policies.
Proficiency in project management tools and software.
How Much Can You Earn as a Wedding Planner? 
The average annual salary for a wedding planner varies – it all depends on whether you run your own wedding planning business, or if you're employed by a company.
According to Labour Market Insights Australia, conference and events organisers (with similar roles & responsibilities to a wedding planner) can earn an annual salary of $62,816 per year. 
However, if you decide to start your own wedding planning business, your earning potential is unlimited. And, the more you grow your skills, the more you can charge for your time and services.
For example, you could be a wedding planner who also specialises in bridal makeup – which would significantly boost your service fees. 
Wedding Planner Employment Outlook 
The Australian job market for wedding planners is expected to grow strongly over the next five years, according to Jobs & Skills Australia's Employment Outlook. 
The number of roles in events and wedding planning is expected to reach 24,300 by 2026, meaning now is a great time to get started on your career as a wedding planner.
How to Become a Wedding Planner 
Pursuing a career as a wedding planner in Australia has become increasingly accessible and flexible. Here's how to kick-start your career:
Online Courses: For quick entry into the field, you can take courses online. Online Courses Australia provides targeted courses in wedding planning that lay a solid foundation for your career. These courses span a range of critical skills, allowing you to learn the ropes of event management and business savvy at your own pace.
Micro-Credentials: Bite-sized and focused, micro-credentials allow you to sharpen specific skills within the wedding planning spectrum. Whether it's budgeting, design & decorating, or client relations, these short courses can bolster your expertise and confidence in key areas of this profession.
Start Your Wedding Planner Course Today 
Achieve your professional wedding planner dreams today with Online Courses Australia and start learning the ropes of wedding planning & events right from the comfort of home. 
Job-Ready Skills
Our courses are designed to arm you with both the practical skills and the foundational knowledge essential for excellence in wedding planning. From coordinating the big day to consulting with clients, we ensure you're industry-ready. With our comprehensive training, you're not just learning; you're preparing to shine in the wedding planning arena.
Learn on Your Schedule
Our courses are designed with your life in mind, offering the flexibility to study around your existing commitments. No need for travel or adjusting your life to fit the classroom — we bring the learning to you.
Start Today 
Are you ready to play a pivotal role in someone's special day? Dive into the wedding planning industry today with Online Courses Australia.
Wedding Planner Skills Info Pack Download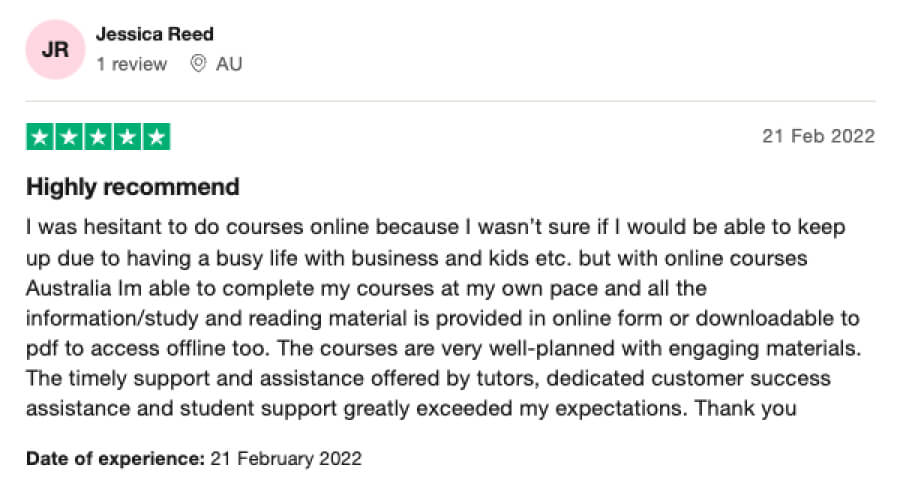 If you have additional questions about our wedding planner courses or our full range of courses that cover more than 20 different professional industries: 
Related Courses & Roles 
Want more from your wedding planner career? Here are some related courses and roles to check out:
---
Start a Career in Wedding Planning Today!