Keen on a career as a visual merchandiser in Australia? There's more than one way to get there, and formal education isn't always a must.
A great option to accelerate your career is through an online design course. These courses offer a well-rounded mix of key skills, from design principles and space planning to mastering CAD for creating compelling floor plans and window displays.
It's a flexible approach, allowing you to learn essential skills from home and paving your way in the vibrant world of retail and visual merchandising. Ready to dive in? Here's what you need to explore to launch your visual merchandising career.
What Does a Visual Merchandiser Do? 
A visual merchandiser brings retail spaces to life, creatively showcasing products to enhance customer experience and drive sales. Their role involves designing enticing window displays, organising in-store layouts, and executing store displays that align with the brand's image and retail strategy. They skillfully use signage, lighting, and graphics to create an immersive shopping environment. 
Visual merchandisers often collaborate with retail management and head office teams to plan and implement merchandising concepts and strategies. Their work extends beyond aesthetic appeal, incorporating sales strategies and understanding customer behaviour to maximise the impact of visual displays. Whether in fashion boutiques, department stores, or large retail chains, a visual merchandiser plays a key role in defining a store's look and feel, making it an exciting and dynamic career choice.
Day in the Life of a Visual Merchandiser
Each day brings a mix of creativity, technical skill, and collaboration, making it a dynamic and engaging career for those with a passion for retail & business. 
Typical Daily Duties
Designing and Implementing Window Displays: Creating captivating window displays to attract customers and reflect the store's brand and current trends.
Arranging In-Store Displays: Strategically placing products within the store to maximise visibility and appeal.
Developing Store Layouts: Planning and executing effective store layouts to enhance customer flow and product exposure.
Creating Signage and Visual Elements: Designing signage and other visual elements to communicate promotions, discounts, or new arrivals.
Collaborating with Retail Teams: Working closely with store managers, sales teams, and other staff to ensure visual strategies align with overall store goals.
Monitoring Store Aesthetics: Regularly reviewing the store's appearance and making adjustments as needed.
Staying Updated with Trends: Keeping abreast of the latest trends in fashion, design, and retail merchandising to apply them effectively in-store.
Managing Inventory for Displays: Coordinating with the merchandising manager to ensure adequate stock for displays and window presentations.
Organising Special Promotions: Setting up displays for special promotions, seasonal events, or specific marketing campaigns.
Visual Merchandiser Skills
Contemplating a new career path as a visual merchandiser? As an aspiring visual merchandiser, you'll need a blend of soft skills (skills you likely already have) and hard fundamental skills (skills you'd learn through design courses). 
Visual Merchandiser Soft Skills
Creativity
Flexibility
Communication
Attention to Detail
Adaptability
Teamwork
Time Management
Problem-Solving
Hard Skills for Visual Merchandisers
Ability to use design software like Adobe Creative Suite (Photoshop, Illustrator) for creating layouts and visual elements.
Understanding of retail operations, sales strategies, and customer service principles.
Staying updated with the latest trends in fashion, design, and retail merchandising.
Skills in planning, executing, and managing visual merchandising projects from conception to completion.
Expertise in designing effective store layouts, window displays, and product placement strategies.
Skills in creating signage, promotional materials, and other graphic elements.
Ability to work within financial constraints, allocating resources effectively for visual merchandising.
Knowledge of managing and organising inventory specifically for visual displays and merchandising purposes.
How Much Can You Earn as a Visual Merchandiser?
According to Market Labour Insights Australia, Australian visual merchandisers can earn an annual salary of $65,280.  
Visual Merchandiser Employment Outlook 
The Australian job market for designers has held strong over the past five years.
And, according to Jobs & Skills Australia, the visual merchandising sector is expected to remain steady reaching a projected 7,500 jobs by 2026. 
How to Become a Visual Merchandiser 
Becoming a visual merchandiser in Australia offers various avenues, each with its unique opportunities.
Online Study: Dive into the world of design with courses from platforms like Online Courses Australia. These aren't just courses; they're your gateway to mastering the essentials of interior design and decoration, crucial for a successful career in visual merchandising.
Work Experience: Combine your online study with work experience for the ultimate kickstart to your career. This is where learning transforms into doing, allowing you to build a portfolio that's not just a collection of work, but a showcase of your visual merchandising design prowess.
Kickstart Your Visual Merchandising Career Today 
Step into a fulfilling career in visual merchandising with Online Courses Australia, where your journey to expertise begins right at home.
Develop Essential Skills
Our interior design course is designed to give you hands-on experience in key areas such as display design, understanding retail aesthetics, and customer engagement strategies. 
You'll acquire vital skills in arranging products, using space effectively, and creating eye-catching window displays. 
These skills are indispensable in both boutique and large retail settings, equipping you to craft engaging shopping environments.
Flexible Learning Made Simple
Tailored to fit your schedule, our course offers the flexibility you need, whether you're balancing part-time or full-time commitments. 
With no need for travel or adhering to strict class schedules, our comprehensive training is always just a click away, available whenever you are.
Begin Your Visual Merchandising Journey
Start shaping your future in visual merchandising today with Online Courses Australia. Take the step now towards a career where you bring retail spaces to life!
Interior Design Info Pack Download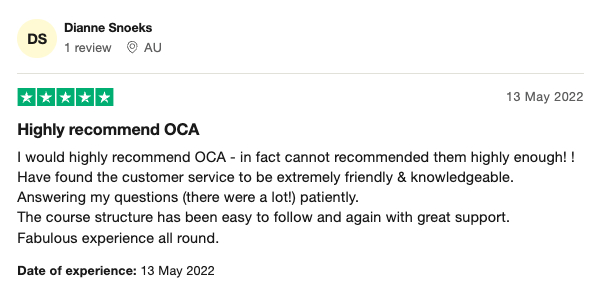 If you have additional questions about our design courses or our full range of courses that cover more than 20 different professional industries: 
Related Courses & Roles 
Want more from your visual merchandising career? Here are some related courses and roles to check out:
---
Start a Career in Interior Design Today!