Interested in becoming a set designer in Australia? There are several paths you could take – and formal education is not necessarily one of them.
In fact, one of the best ways to fast-track your career is by enrolling in an online design course. They strike a perfect balance between thorough design principles, space planning, and essential CAD skills.
It's a convenient way to build a strong foundation from home, setting you up for success in the dynamic world of set design. Eager to start? Here's a snapshot of what you need to know to kick-start your set design career. 
What Does a Set Designer Do? 
A set designer plays a crucial role in the world of theatre production, television shows, and filmmaking. Their job is a blend of artistry and technical skill, involving the creation of physical backdrops that bring stories to life. With a keen eye for detail, a Set Designer uses design skills and knowledge of various mediums to craft sets that reflect the script's era, mood, and character. 
They collaborate closely with art directors, production companies, and lighting designers, ensuring every aspect of the set aligns with the vision of the production. From sketching initial concepts to overseeing set construction, a set designer's role is both creative and hands-on, requiring a mix of study, practical experience, and strong communication skills.
Day in the Life of a Set Designer 
Each day brings a mix of creativity, technical skill, and collaboration, making it a dynamic and engaging career for those with a passion for the performing and visual arts.
Typical Daily Duties
Collaborating with Art Directors and Production Teams: A typical day often starts with meetings to align the set design vision with the overall production goals.
Sketching and Storyboarding: Set Designers spend time translating creative ideas into visual concepts, often using storyboards and sketches.
Computer-Aided Design (CAD) Work: They use CAD and other design software to create detailed and accurate representations of the sets.
Scouting and Selecting Locations: For film and television production, they might visit various locations to find the perfect setting.
Sourcing Materials and Overseeing Set Construction: Set Designers are involved in choosing materials and supervising the construction or alteration of the set.
Fine-Tuning Lighting and Decor Elements: Collaborating with lighting designers and set decorators to ensure the set's ambience matches the production's tone.
Managing Budgets and Schedules: Part of their day involves ensuring that the design stays within budget and timeline constraints.
Attending Rehearsals and Making Adjustments: For theatre production, they might attend rehearsals to see how actors interact with the set and make any necessary changes.
Set Designer Skills
Contemplating a new career path as a set designer? As an aspiring set designer, you'll need a blend of soft skills (skills you likely already have) and hard fundamental skills (skills you'd learn through design courses). 
Set Designer Soft Skills
Creativity
Adaptability
Communication
Teamwork
Problem-solving
Attention to detail
Hard Skills for Set Designers
Proficiency in Computer-Aided Design (CAD) software
Understanding of architectural and interior design principles
Knowledge of various artistic mediums and materials
Ability to read and interpret scripts and storyboards
Skills in budgeting and project management
Expertise in lighting and spatial design
Familiarity with historical and contemporary design styles
How Much Can You Earn as a Set Designer?
According to Market Labour Insights Australia, Australian interior designers can earn an annual salary of $82,472. With set design falling under the holistic "design" career, set designers can expect to earn a similar salary. 
Set Designer Employment Outlook 
The Australian job market for designers has been steadily growing over the past five years.
And, according to Jobs & Skills Australia, the design sector is expected to grow very strongly, reaching a projected 27,200 jobs by 2026. 
This means if you're considering starting a career as a set designer, there's never been a better time. 
How to Become a Set Designer 
Becoming a set designer in Australia offers various avenues, each with its unique opportunities.
Online Study: Online education platforms like Online Courses Australia provide targeted courses in interior design & decoration, which teach fundamental skills in design concepts you'll need to excel as a set designer. 
Focused Short Courses: Short, targeted courses or micro-credentials can hone specific Set Design skills, such as budget management, adding valuable expertise to your skillset.
Hands-On Apprenticeships: Nothing beats combining online study with real-world experience. Offering your skills in an apprenticeship can give you invaluable practical knowledge and a glimpse into the life of a set designer.
Practical Work Placements: Getting an internship or work placement with seasoned designers or studios is crucial. It's a practical way to learn on the job and accumulate a portfolio that showcases your set design talents.
Kickstart Your Set Design Career Today 
Don't wait to turn your passion for set design into a fulfilling career. With Online Courses Australia, you can begin mastering the intricate art of set design right from home.
Job Ready Skills
Our interior design course offers hands-on training in key areas like creating mood boards, understanding design elements, and colour theory. You'll gain practical skills in line, pattern, texture, and light management, essential for both residential and commercial set design. You'll also learn how to select the perfect art and accessories to create rhythm and harmony in any space – from film & TV to theatre.
Learn at Your Pace
Our flexible learning structure fits seamlessly into your life, whether you're juggling part-time or full-time commitments. Forget the stress of travel and rigid class schedules; our comprehensive training is just a click away, anytime, anywhere.
Start Your Journey Today
Begin your path to a successful career in set design today with Online Courses Australia. Start now and shape the spaces of tomorrow!
Interior Design Info Pack Download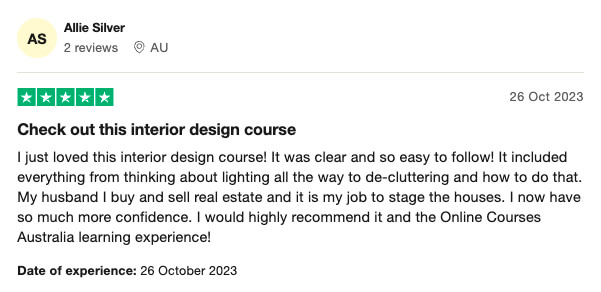 If you have additional questions about our design courses or our full range of courses that cover more than 20 different professional industries: 
Related Courses & Roles 
Want more from your set design career? Here are some related courses and roles to check out:
---
How to Become a Interior Designer with Online Study!