When adolescents and young people in Australia face mental health issues or other challenges, student counsellors step in with empathy, specialised skills, and evidence-based approaches. 
Within the school setting, these professionals play a crucial role in student wellbeing, identifying specific needs and implementing meaningful change through school counselling services. 
Whether you're considering full-time or part-time roles, this rewarding career offers an avenue to genuinely make a difference. Here's how to get started. 
School Counsellor Overview
In Australian schools, student counsellors tackle the diverse challenges young people face, from mental health to academic stress. Specialising in student wellbeing, they provide tailored counselling services to help students navigate their struggles. Using evidence-based methods, they offer both immediate support and long-term mental well-being strategies, often collaborating with teachers and healthcare providers to enhance the whole school environment.
Day in the Life of a School Counsellor 
A typical day for a school counsellor in Australia is a dynamic mix of scheduled appointments, crisis interventions, and proactive wellbeing initiatives
Typical Daily Duties
Student Sessions: Kick off with pre-booked counselling appointments focused on mental health and academic concerns.
Quick Catch-Ups: Update case notes and plan any necessary follow-ups.
Teacher Liaison: Brief chats with teaching staff about student wellbeing or specific cases affecting the school setting.
Crisis Handling: Be ready for urgent issues requiring immediate intervention, like mental health crises.
Group Work: Run short group sessions on topics like exam stress or career development.
Parent Updates: Quick consultations with parents to provide further information on their child's wellbeing.
Next-Day Prep: Wind down by setting priorities for the next day's agenda.
School Counsellor Skills
Is becoming a school counsellor your calling? You'll need a blend of soft skills and hard skills to ensure you're the best school advisor you can be. 
School Counsellor Soft Skills
Empathy
Communication Skills
Problem-Solving
Adaptability
Confidentiality
Hard Skills for School Counsellors
By undertaking a mental health course or counselling course, you'll equip yourself with the relevant practical skills to kick-start your school counsellor career.
Specialised Knowledge: Courses often cover specific topics like emotional wellbeing and recovery-focused care, equipping you with the practical know-how you'll need.
Crisis Management: With modules often focused on acute mental health issues, you'll be prepared to offer immediate, effective interventions.
Treatment Strategies: Skills in providing evidence-based treatment and support, whether for child and adolescent or adult mental health issues.
Resourcefulness: Your coursework will likely expose you to various mental wellbeing support services and professionals, like mental health specialists, enhancing your network and referral capabilities.
Mental Health Literacy: A strong understanding of both child and adult mental health, including mood disorders and emotional wellbeing, backed by formal education.
How Much Can You Earn as a School Counsellor?
According to data from Labour Market Insights, counsellors— a profession closely related to school counsellors— can expect to earn an average annual salary of roughly $86,000.
Keep in mind, your earnings can fluctuate widely depending on your particular area of expertise, your level of experience, and your skill set. 
Taking additional courses, such as those focusing on relationship coaching, can increase your income prospects. 
School Counsellor Employment Outlook 
The counselling sector is booming in Australia. As per forecasts from Jobs & Skills Australia, employment opportunities in this field are set to see big growth, with the workforce likely expanding to approximately 27,800 professionals by the year 2026.
How to Become a School Counsellor
If you're considering a fulfilling career as a school counsellor in Australia, there are various educational pathways to set you on the right course.
Online Learning Options:
Educational platforms like Online Courses Australia offer specialised training programmes that equip you with essential skills for school counselling roles. These online courses cover crucial topics such as child and adolescent mental health, social work in a school setting, and professional development for counsellors. 
Micro-Credentials:
Another option is micro-credentials, which are condensed courses focusing on specific competencies. Whether you're keen on enhancing your communication skills through a counselling micro-credential or diving into specialised topics like mental health issues among young people, micro-credentials offer a concentrated and speedy way to specialise in your chosen area.
Both pathways not only offer valuable skill sets but also open up career development opportunities, ensuring you're well-prepared to tackle the rewarding challenges of being a school counsellor in Australia.
Start Your School Counsellor Journey Today 
Keen on making a significant impact on young lives? With Online Courses Australia, you can begin your pathway to becoming a school counsellor straight from the comfort of your own home.
A Tailored Curriculum to Suit Your Needs
Our courses are designed to give you both the hands-on skills and foundational knowledge you'll need to thrive in a school counselling environment. From understanding adolescent mental health to building effective wellbeing programs, we've got you sorted.
Learn at Your Own Pace
Our courses are crafted to suit both part-time and full-time commitments, giving you the flexibility to learn when it suits you. Say goodbye to the hassle of commuting or meeting entry requirements; top-notch training is just a click away.
Start Your School Counselling Career Today
Ready to contribute to the mental well-being and positive growth of students? Your journey in becoming a qualified school counsellor starts today with Online Courses Australia.
Counselling Course Info Pack Download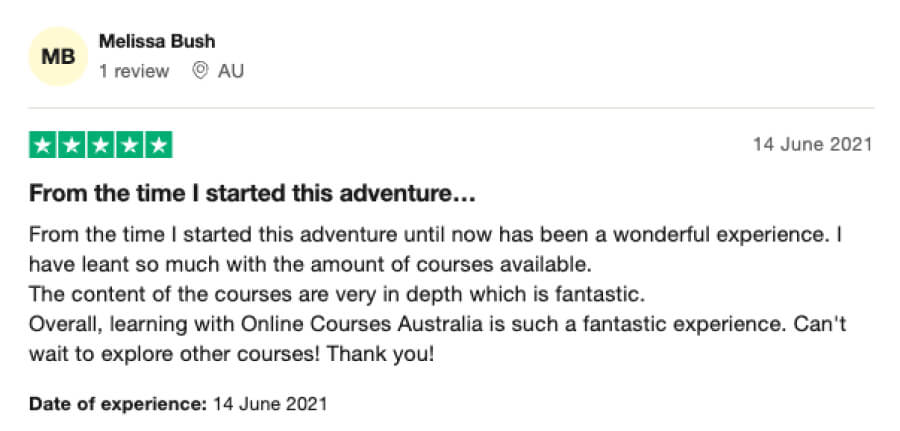 If you have additional questions about our full range of courses that cover more than 20 different professional industries: 
Related Courses & Roles 
If you have a genuine passion for helping others, here are some related courses and roles to check out:
---
Start a Career in Counselling Today!