Stepping into the world of pet grooming as a career is about more than just adoring animals. It involves a deep understanding of animal care services, from mastering grooming techniques to identifying different coat types and skin conditions.
Australia's pet care industry offers plenty of opportunities for aspiring groomers. Undertaking a pet grooming course is the best way to fast-track your career and carve out your own business in this sector.
Let's explore how online courses and hands-on training can set you on the path to becoming a professional dog groomer in this ever-growing Australian market.
Dog Groomer Overview
In the role of a dog groomer, you'll be responsible for a range of grooming services, from styling and using clippers and brushes to understanding the specific needs of different dog breeds and their coats. You'll also need to be savvy about dog temperament and behaviour, and occasionally administer basic health treatments. 
Beyond the hands-on animal care, your day will include customer interactions, appointment scheduling, and workspace maintenance. Essentially, a dog groomer's job combines meticulous pet care with essential admin tasks to ensure everything operates seamlessly.
Day in the Life of a Dog Groomer  
In Australia's booming pet grooming business, each day brings both challenges and rewards. For those considering this hands-on, fulfilling career, here's a glimpse into what a typical day might look like.
Responsibilities usually cover:
Offering grooming essentials like haircuts, baths, nail trims, and even flea treatments
Talking to clients and setting up appointments
Keeping both your workspace and tools spick and span
Engaging with the dogs you're grooming
Advising pet owners on how to care for their furry friends
Handling record-keeping and other admin tasks
Dog Groomer Skills
Australia's pet care industry is booming, and pet grooming is a specialisation that's experiencing tremendous growth. If you're contemplating diving into this rewarding career, you'll need more than just a love for dogs—you'll also need a set of soft and hard skills to truly excel.
Soft Skills in Dog Grooming
Clear Communication
Physical Stamina
Love for Pets
Empathic Abilities
Organisational 
Customer Service Skills
Hard Skills for a Dog Groomer
To truly excel as a dog groomer, you should have training in dog grooming, pet care, and pet first aid – all learnable through OCA's Dog Grooming Pathway Bundle. Here's what else you will learn:
Animal Behavior Understanding: Knowing how to read a dog's body language or mood can make the grooming process smoother for everyone involved.
Technical Expertise: From using clippers to bathing and brushing techniques, proficiency in hands-on tasks is essential in dog grooming.
Health and Safety: Understanding the basics of canine first aid, as well as how to handle potential hazards in the workplace, can set you apart in the industry.
Kennel Maintenance: Cleanliness is key. Managing a sanitary workspace, including kennels and grooming tables, is non-negotiable.
Business Management: Even if you're employed by someone else, understanding the basics of running a dog grooming business can give you a leg up in your career. This includes aspects like customer service, marketing, and basic accounting.
How Much Can You Earn as a Dog Groomer? 
Thinking about a career in dog grooming in Australia? Here's how much you can earn.
Starting Out: Fresh in the field? Expect around $20 to $25 per hour.
Seasoned Pros: With a few years and extra study, you could make between $30 and $50 per hour.
Full-Time Gigs: Running your own show full-time could bring in an annual salary ranging from $70,000 or more, depending on your expertise.
Specialisation: A higher level of specialisation like Dog Psychology, Behaviour & Training can boost your earning potential. 
Add-Ons: Offering more than just a trim? Services like basic first aid can up your rates.
Solo or Team Player: Being self-employed could yield higher earnings.
Bottom Line: Your income will depend on your experience, skills, and how you choose to run your business. With the right moves, dog grooming can be both a rewarding and lucrative career path. 
There is also the potential to earn more as a pet sitter when you undertake further study, for example, a course in Dog Psychology, Behaviour & Training.
Dog Groomer Employment Outlook 
The future looks bright for careers in dog grooming. According to data from the Australian Industry and Skills Committee, Australia is home to about 4,000 pet grooming establishments. 
What's more, jobs in the animal care sector have more than doubled since 2000. Given that there are over 29 million pets in Australian homes—with dogs leading the pack—it's safe to say the dog grooming field is expected to see steady growth.
How to Become a Dog Groomer 
Volunteer: Start by reaching out to your local dog grooming salons or veterinary clinics to volunteer during weekends or off-hours. This hands-on experience can offer you invaluable insights into the day-to-day responsibilities of a dog groomer, plus it's a fantastic way to rack up some practical skills.
Online Training Courses: Platforms like Online Courses Australia offer in-depth courses tailored for aspiring dog groomers. These courses delve into essential topics such as basic grooming techniques, animal first aid, how to run your own business, and client communication, equipping you with the fundamental skills to excel in the dog grooming industry.
Join Industry Associations: Being a part of a respected industry association can give your dog grooming career a significant boost. Membership in groups like the Pet Industry Association not only provides networking opportunities with fellow professionals but also keeps you in the loop on industry regulations and trends.
The bottom line is with the right mix of online education and specialised skills, you can carve out a fulfilling and profitable career in dog grooming.
Start Your Online Dog Grooming Course Today 
Why wait to turn your love for dogs into a fulfilling profession? Online Courses Australia is your go-to platform for embarking on a career in dog grooming—all from the comfort of your own home.
Our curriculum is crafted to arm you with hands-on grooming techniques and a solid grasp of canine behaviour. This paves the way for you to not only excel in the dog grooming industry but also make a significant impact on the well-being of dogs.
Whether you're eyeing a part-time gig or a full-time career, our online courses offer the flexibility you need to fit your lifestyle and ambitions. Say goodbye to prerequisite hassles and daily commutes; receive top-notch training online, at your own pace.
If you're keen on making a positive difference in the lives of dogs and their owners, your journey starts today with Online Courses Australia.
Dog Grooming Course Bundle Info Pack Download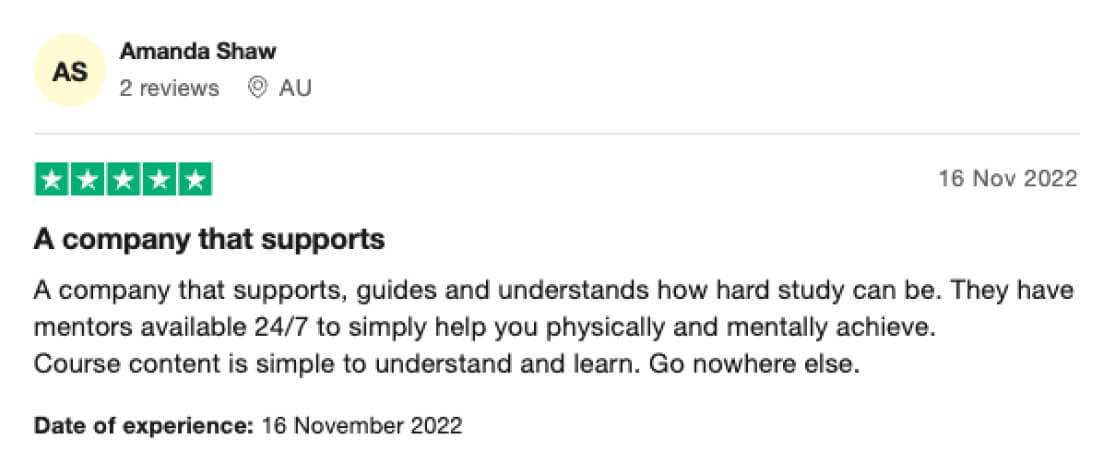 If you have additional questions about our dog grooming courses or our full range of courses that cover more than 20 different professional industries: 
Related Courses & Roles 
If you have a genuine passion for animals and a knack for empathy, the pet care industry offers a wealth of career options beyond just dog grooming. 
From roles in veterinary clinics to dog training and psychology, to wildlife conservation and more, the opportunities are abundant. 
Here are some related courses and roles to check out:
Read More
---
Improve your animal care career options.