Looking to become a diversional therapist in Australia? Good news—you can now get started with convenient online study options. 
These flexible courses in aged care and leisure and health allow you to gain the essential competencies right from your home. 
The demand for professionals in this field is high, especially in Australian aged care facilities. Online courses make it easier than ever to step into roles like activities coordinator or activities officer. 
Ready to make a meaningful impact in health care? Let's dive into how to get started.
Diversional Therapist Overview
A diversional therapist focuses on enhancing the mental health and physical well-being of individuals, primarily in aged care facilities. Employed in Australia and often part of a broader health care team, they plan and implement leisure programs and recreational activities tailored to individual needs. The job opportunities are diverse, extending from care centres to community services. 
Day in the Life of a Diversional Therapist 
A typical day for a diversional therapist in Australia is varied – no two days are the exact same. However, there are some typical daily duties you're likely to perform. 
Typical Daily Duties
Morning Review: Start the day by reviewing individual care plans in the aged care facility, focusing on the mental health and physical wellbeing needs of residents.
Coordination: Liaise with other health care providers and activities officers to organise the day's leisure programs and recreational activities.
Activity Setup: Spend the morning hours setting up for scheduled activities, ranging from arts and crafts to light physical exercises.
One-on-One Sessions: Conduct individual therapeutic recreation sessions tailored to meet specific leisure and health needs.
Administrative Tasks: Use the afternoon for administrative duties such as updating records, planning future activities, and liaising with consultancies or community services for special events.
Professional Development: Stay updated on new trends and techniques in diversional therapy through continual learning.
Diversional Therapist Skills
If you're keen on making a meaningful impact in the health care sector, specifically within aged care facilities, becoming a diversional therapist might be the path for you. But what skills do you need?
Diversional Therapist Soft Skills
Empathy
Communication Skills
Patience
Problem-Solving
Adaptability
Organisation
Hard Skills for Diversional Therapists
If you're contemplating a career as a diversional therapist in Australia, completing an aged care course can provide you with essential hard skills based on the following learning outcomes:
Work Effectively With Older People: Acquiring the ability to understand and cater to the specific needs of aged individuals, particularly in aged care facilities.
Follow Safety Procedures For Direct Care Work: Learning the protocols and procedures to ensure a safe environment for both you and those in your care.
Recognise Healthy Body Systems In A Health Care Setting: Gaining the expertise to identify signs of well-being or issues that may need medical attention.
Work Effectively In The Community Sector: Skill development for efficient collaboration with community services, other health care providers, and activities officers.
Provide Behaviour Support In The Context Of Individualised Plans: Understanding how to manage and adapt behaviour support according to individual needs and care plans.
Work Effectively With Culturally Diverse Clients & Co-Workers: Building cultural competency to effectively interact with a diverse population
Support Older People To Maintain Their Independence: Acquiring skills to help aged individuals maintain a sense of autonomy.
Comply With Infection Control Policies & Procedures: Understanding and implementing infection control measures, including proper immunisations.
Support Individual Health & Emotional Well-Being: Learning how to create and manage programs that cater to both physical and mental health.
How Much Can You Earn as a Diversional Therapist?
The average annual salary for a diversional therapist is $64,000, according to Labour Market Insights. 
However, there is the potential to earn more when you undertake further study, for example, a complementary course in allied health assistance or counselling can significantly boost your earning potential. 
Diversional Therapist Employment Outlook 
According to Jobs and Skills Australia Employment Projections for the period between November 2021 and November 2026, employment in this sector is on an upward trajectory. 
The workforce is anticipated to see moderate growth, with projections indicating that the number of workers will likely hit the 1,800 mark by 2026.
How to Become a Diversional Therapist 
If you're keen to carve out a career as a Diversional Therapist in Australia, there are multiple pathways you can take to get there. Here's a quick guide to some of the best options:
Online Courses: Online platforms like Online Courses Australia offer dedicated courses specifically designed for those interested in working in aged care and diversional therapy. If you've got a full-time job or other responsibilities, online courses offer the flexibility you need to learn at your own pace.
Micro-Credentials: Think of these as bite-sized courses that hone in on particular skill sets crucial for a diversional therapist. These could range from counselling micro-credentials to supporting ageing people with disabilities,  giving you the opportunity to specialise in areas that particularly interest you.
Volunteering: Nothing beats on-the-job training, and volunteering provides invaluable hands-on experience. Whether it's at local aged care facilities or through community services, volunteering can give you a real-world look into the day-to-day life of a diversional therapist. 
Start Your Diversional Therapist Career Today
Keen to turn your compassion for helping others into a fulfilling career? Don't wait. With Online Courses Australia, you can begin your journey to becoming a diversional therapist right from the comfort of your home.
A Curriculum that Works for You
Our tailored aged care courses are designed to provide you with the practical skills and foundational knowledge you'll need to succeed in the field of diversional therapy. From learning how to work effectively with older people to understanding infection control policies & procedures, we've got you sorted.
Flexibility on Your Terms
Life's busy—we get it. That's why our courses are built to adapt to your lifestyle. Whether you're aiming for a part-time or full-time role in the Australian health care sector, you can learn at your own pace, without the hassle of commuting or meeting prerequisites.
Ready to Make a Difference?
If you're passionate about contributing to the well-being of individuals, particularly in aged care, then this is the career for you. 
Your journey in Diversional Therapy starts today with Online Courses Australia. Download OCA's free aged care info pack below and set yourself on the path to a rewarding and impactful career.
Aged Care Bundle Info Pack Download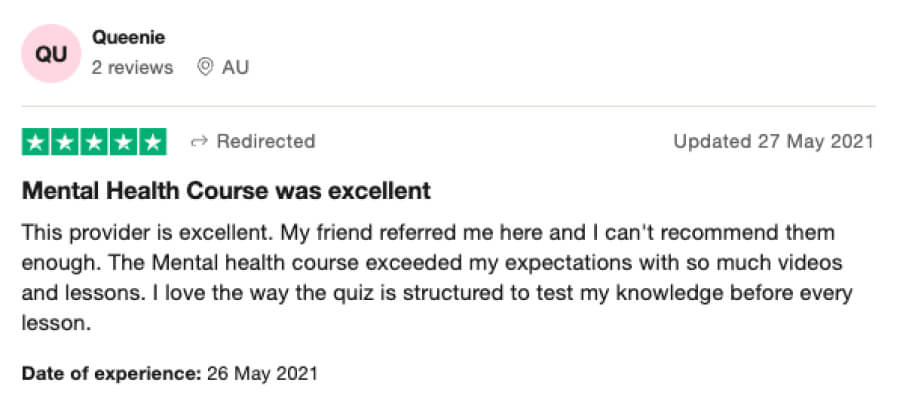 If you have additional questions about our Diversional Therapist courses or our full range of courses that cover more than 20 different professional industries: 
Related Courses & Roles 
If you have a genuine passion for helping others in the community, the aged care, counselling and community industry offers a wealth of career options.
Here are some related courses and roles to check out:
---
Start a Career in Aged Care Today!