Considering a career in counselling? Online counselling courses offer a flexible and accessible pathway to get you started right here in Australia. Ideal for those balancing work, family, or other commitments, online study makes it easier than ever to gain the essential counselling skills you'll need to get started in this rewarding field. Ready to learn more? Let's dive in.
Counsellor Overview
In the ups and downs of life, from mental health obstacles to love life issues and workplace tension, counsellors in Australia serve as a vital support system. They engage with a wide array of individuals, offering a listening ear and actionable guidance to help improve their mental and emotional well-being. Whether it's through focused counselling sessions or tailored programs to track progress, counsellors have the unique opportunity to positively impact the lives of their clients.
Day in the Life of a Counsellor 
A typical day for a counsellor in Australia blends emotional nuance with professional development, offering a fulfilling but challenging role in the allied health industry. 
Typical Daily Duties
Counselling Sessions
Most days will involve scheduled counselling sessions with clients dealing with a variety of issues, from mental health struggles to relationship counselling and workplace stress.
Case Management
Counsellors often spend a portion of their day on case management. This includes reviewing notes from counselling sessions, planning future interactions, and perhaps coordinating with other healthcare providers.
Skill Building
Maintaining and improving counselling skills is a continuous process. Whether it's taking a short online course or participating in a workshop for professional development, learning never stops.
Community Services Outreach
Some counsellors work closely with community services, aiding specific demographics like young people or Aboriginal and Torres Strait Islander communities.
Client Monitoring
A crucial aspect is the follow-up with clients to track their mental and emotional progress. This could be via phone calls, emails, or setting up future appointments.
Admin Tasks
Like any profession, there's the inevitable admin to take care of—this could include everything from scheduling to billing to maintaining records.
In a nutshell, a career as a counsellor in Australia promises a varied and impactful workday, with multiple opportunities for both personal and professional growth.
Counsellor Skills
If you're considering a step into the world of counselling in Australia, it's essential to understand the unique blend of hard and soft skills required. By undertaking a counselling course, you'll not only build a strong foundation but also gain the hands-on practical experience to start your career with confidence.
Counsellor Soft Skills
Listening Skills
Communication Skills
Emotional Intelligence
Conflict Resolution
Empathy
Hard Skills for Counsellors
Case Management: Being organised and able to manage a caseload is crucial. You'll track your clients' progress and keep relevant notes for each.
Counselling Techniques: From Cognitive Behavioral Therapy to other evidence-based methods, specialised counselling skills are a must.
a
Legal and Ethical Compliance: You'll need to be well-versed in the legal and ethical guidelines that govern the field of counselling, including those set out by bodies like the Australian Counselling Association (ACA).
Research Skills: Whether you're staying current with the latest in mental health research or gathering data for case studies, research skills are invaluable.
How Much Can You Earn as a Counsellor?
The average annual salary for a counsellor is $86,000 per year, according to Labour Market Insights in Australia. 
However, there is the potential to earn more when you undertake further study, for example, a complementary course in allied health assistance can potentially boost your earning potential. 
Counsellor Employment Outlook 
The Australian job market for counsellors has been steadily growing over the past five years. 
The sector is expected to continue to grow strongly, with the number of counsellors in Australia reaching 27,800 by 2026, according to Jobs & Skills Australia. 
What does this mean for you? If you're keen to get started in the healthcare and mental health industry, there's never been a better time. 
How to Become a Counsellor 
If you're eyeing a career as a counsellor in Australia, there are plenty of pathways to get you there.
Online Courses: Platforms like Online Courses Australia offer tailored courses designed to set you on your counselling career path. These online courses are especially convenient if you're juggling other responsibilities. They cover a range of essential topics, from practical skills like counselling techniques and case management to soft skills like communication and empathy.

Micro-Credentials: Think of these as bite-sized educational units that zoom in on specific areas of counselling. Whether it's conflict resolution, mental health first aid, or specialised counselling skills, counselling micro-credentials offer a targeted approach to professional development.
Volunteer: Don't underestimate the power of real-world experience. Volunteering in community services or healthcare settings can provide a valuable, on-the-ground perspective on what it takes to be a counsellor. Whether it's part-time or on weekends, this experience can be a game-changer in your career journey
Start Your Counselling Course Today 
Why wait to make a meaningful impact on people's lives? With Online Courses Australia, you can begin your journey to becoming a counsellor without leaving your living room.
A Curriculum that Works for You
Our courses are carefully designed to arm you with the practical skills and foundational knowledge you'll need to excel in the counselling field. Whether you're interested in mental health, relationship counselling, or any other specialisation, we've got you covered.
Flexibility on Your Terms
Our courses are built with your lifestyle in mind. Designed to fit both part-time and full-time commitments, you can say goodbye to the hassle of commuting or meeting strict entry requirements. Quality training in counselling is now more accessible than ever.
Ready to Make a Difference in Counselling?
Your journey starts today. Online Courses Australia offers you the tools and training you need to embark on a fulfilling and impactful counselling career. So why wait? Dive in and begin transforming your passion into a profession.
Counselling Course Bundle Info Pack Download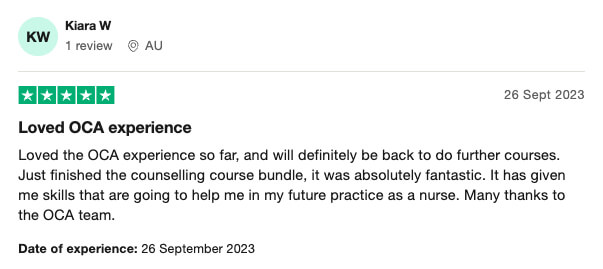 If you have additional questions about our counselling courses or our full range of courses that cover more than 20 different professional industries: 
Related Courses & Roles 
If you have a genuine passion for helping others, the health assistance industry offers a wealth of career options beyond just counselling.  
Here are some related courses and roles to check out:
---
Start a Career in Counselling Today