Keen on making a mark as a content creator? An online social media course is the best way to get started.
While not essential, a course in social media marketing can significantly boost your success as a content creator. Learn the essentials of personal branding, sponsorships, vlogs, YouTube, TikTok, and understanding your target audience.
With a focus on digital marketing and content creation, online courses offer the tools you need to excel in the digital world. Start your journey towards a rewarding content creator career today.
What is a Content Creator?
A content creator develops and shares engaging material, such as videos, blog posts, and social media updates. Their role involves crafting content that resonates with their audience, often combining creativity with strategic planning.
They stay up-to-date with trends, adapt their content to different platforms, and engage with their followers to build a community around their brand or message. Whether working independently or for a brand, their goal is to create compelling content that captures attention and encourages interaction.
Day in the Life of a Content Creator 
A content creator's day is extremely varied – and that's half the fun! From working on your own content to brand partnerships, no two days are the same. However, here are some of the typical things you may find yourself doing day-to-day as a content creator: 
Typical Daily Duties
Review content calendar for scheduled posts and deadlines.
Check social media platforms for audience engagement and respond to comments.
Research and brainstorm content ideas relevant to the target audience.
Create a daily, weekly or monthly content strategy to keep you on track.
Create high-quality content for various digital platforms, like writing blog posts for LinkedIn, recording videos and reels for TikTok, or designing graphics.
Optimise digital content for SEO to improve search engine visibility.
Engage in networking, possibly collaborating with influencers or negotiating sponsorships.
Analyse metrics from previous posts to gauge performance and audience preferences.
Plan and schedule upcoming content, maintaining a balance between different types of content creators' activities.
Update personal brand materials or work on freelance content creator projects
Content Creator Skills
To become a successful content creator, you'll need a blend of soft skills (skills you naturally possess) and hard skills (skills you'd learn from a social media/marketing course). 
Content Creator Soft Skills
Creativity
Adaptability
Communication
Empathy
Persistence
Hard Skills for Content Creators
Understanding search engine optimization to enhance content visibility.
Skills in shooting and editing video content, particularly for platforms like YouTube and TikTok.
Proficiency in design software for creating visually appealing graphics and infographics.
Ability to craft engaging, well-written content for blogs, social media posts, and more.
Expertise in using various social media platforms effectively for content distribution and audience engagement.
Competence in using analytics tools to track content performance and audience insights.
Understanding of digital marketing strategies to promote content and build brand awareness.
Skill in taking high-quality photos is often important for visual content creation.
How Much Can You Earn as a Content Creator?
According to Australian Labour Market Insights, advertising and marketing professionals in Australia earn an average annual salary of $91,416. Content creators work in the advertising and marketing space, so they can expect to earn a similar salary.
However, your earning potential as a content creator will hinge on a few factors, such as whether you're employed by a brand or you're freelancing and working on your own business. 
If you choose to run your own business, your earning potential could be significantly greater as you can pick and choose how many clients or partnerships you take on.  
Plus, the more you upskill with additional social media courses and knowledge, the more you can charge.
Content Creator Employment Outlook
The Australian job market for content creators has grown quickly over the past five years.
According to Jobs & Skills Australia's employment projection outlook, advertising and marketing jobs will boom in the coming years and are likely to reach 89,300 by 2026. 
This means if you've always dreamed of working in the social media, marketing and advertising  industry as a content creator, there's never been a better time to get started. 
How to Become a Content Creator 
Thinking about diving into the world of content creation in Australia? Here's how you can get started, with plenty of options to suit your style.
Online Courses: Educational platforms like Online Courses Australia offer a range of tailored courses in content creation. These are great for learning the ropes, covering everything from the basics to the advanced skills you need to thrive as a content creator. Plus, online courses are incredibly flexible, fitting around your other commitments.
Micro-Credentials: These bite-sized courses focus on specific content creation skills. They're perfect for brushing up on certain areas – like how to create engaging content on TikTok – for adding some extra skills to your toolbox. 
Just Start Creating: To get a head start, start making and sharing your content. Get feedback, tweak your approach, and keep at it. Remember, practice makes perfect!
Start Your Content Creator Course Today 
Got a love for all things digital and can't wait to channel it into a fulfilling career? Online Courses Australia is here to help you get started right from the comfort of your home.
Skills That Get You Noticed
Our courses are packed with the practical know-how and essential insights you need to shine in the content creation world. Whether you're keen on mastering the art of viral videos or nailing the perfect blog post, we're here for it.
Learn At Your Own Pace
Busy schedule? No worries. Our courses flex to fit your life, whether you're juggling a job or other commitments. Say goodbye to the hassle of commuting – top-notch training is just a click away.
Start Your Content Creator  Career Today
Eager to dive into the content creation scene? Your journey begins now with Online Courses Australia. Let's make something amazing together!
Social Media Essentials Info Pack Download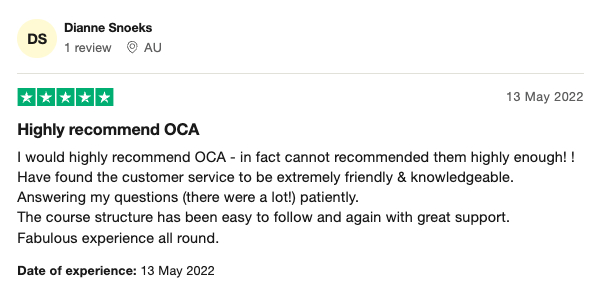 If you have additional questions about our courses that cover more than 20 different professional industries: 
Related Courses & Roles 
If you have a genuine passion for social media and marketing, the industry offers a wealth of career options. Here are some related courses and roles to check out:
---
Start a Career in Social Media Today!