Ready to dive into a career as a brand manager in Australia? Start with an online social media marketing course and learn everything you need to know about brand marketing.
It's a practical, flexible way to learn the ropes of brand strategy and digital marketing. You'll pick up key skills in market research and brand messaging, all while getting to grips with what makes a great marketing campaign tick.
This course is your first step towards mastering brand development and setting yourself up for exciting roles in brand and marketing management. Easy to fit around your life, it's a smart move for your future in the bustling world of marketing
What Does a Brand Manager Do? 
A brand manager's job is a mix of creativity and strategy. Your day is filled with market research to understand your target audience and crafting brand messaging that resonates. You'll dive into project management, steering marketing campaigns from concept to reality. It's about keeping a keen eye on market trends and consumer behaviour, ensuring your brand stays relevant and engaging.
Working closely with your marketing team, you'll make decisions on pricing, product development, and even public relations. It's a dynamic role where adaptability, analytical skills, and communication are key to making your brand top of mind. 
Day in the Life of a Brand Manager 
A brand manager's day is extremely varied – no two days are ever the same! However, there are some typical daily duties you'll find yourself doing as a brand manager, such as:  
Typical Daily Duties
Analysing market trends and consumer behaviour to identify opportunities and challenges for the brand.
Meet with the marketing team to discuss ongoing projects and initiatives, ensuring alignment with the brand strategy.
Oversee the development and execution of marketing campaigns, from conceptualization to launch, including digital marketing efforts.
Refine and adjust brand messaging across various platforms, ensuring consistency and alignment with target audience expectations.
Review data analytics from recent marketing campaigns to measure effectiveness and plan future improvements.
Liaise with stakeholders, including product managers and senior brand managers, to ensure brand objectives are met.
Manage public relations activities, ensuring the brand maintains a positive image and strong brand equity.
Collaborate on product development, providing input on pricing, design, and features from a branding perspective.
Monitor and respond to customer feedback and social media interactions to stay connected with the brand's community.
End the day with strategic planning, looking ahead to future marketing initiatives and brand development opportunities.
Brand Manager Skills
To become a successful brand manager, you'll need a blend of soft skills (skills you naturally possess) and hard skills (skills you'd learn from a social media/marketing course). 
Brand Manager Soft Skills
Creativity
Adaptability
Communication Skills
Empathy
Persistence
Organised 
Strategic Thinking 
Hard Skills for Brand Managers
Proficient in gathering and interpreting market data to understand trends, target audiences, and competitive landscapes.
Knowledgeable in digital marketing strategies, including SEO, social media marketing, and online advertising.
Skilled in using analytics tools to track campaign performance, consumer behaviour, and market dynamics.
Ability to develop and execute effective brand strategies that align with company goals and resonate with customers.
Competent in managing multiple projects simultaneously, ensuring timely and successful execution of marketing campaigns.
Crafting compelling and consistent brand messages across various platforms.
Understanding of product life cycles and how to effectively market new products.
Ability to manage budgets, understand pricing strategies and measure return on investment for marketing activities.
Experience in managing public relations and media communications to maintain a positive brand image.
Familiarity with marketing software, CRM tools, and other relevant technology.
How Much Can You Earn as a Brand Manager?
According to Australian Labour Market Insights, advertising and marketing professionals in Australia earn an average salary of $91,416. Brand managers work in the advertising and marketing space, so they can expect to earn a similar salary.
However, your brand manager salary will hinge on a few factors, such as whether you're employed by a brand or you're freelancing and working on your own business. 
If you choose to run your own business, your earning potential could be significantly greater as you can pick and choose how many clients or brands you take on. 
Plus, the more you upskill with additional social media courses and knowledge, the more you can charge for your services. 
Brand Manager Employment Outlook 
The Australian job market for brand managers has grown quickly over the past five years.
According to Jobs & Skills Australia's employment projection outlook, advertising and marketing jobs will boom in the coming years and are likely to reach 89,300 by 2026. 
This means if you've always dreamed of working in the social media, marketing and advertising industry as a brand manager, there's never been a better time to get started. 
How to Become a Brand Manager 
Keen to become a brand manager ASAP? Here's how you can get started, with plenty of learning options to suit your style.
Online Courses: Educational platforms like Online Courses Australia offer a range of tailored courses in social media marketing and brand management. These are great courses for learning the essentials of brand management, from the buyer's journey to copywriting, video production, podcasting and more. Plus, online courses are incredibly flexible, fitting around your other commitments.
Micro-Credentials: These bite-sized courses focus on specific brand management skills. They're perfect for brushing up on certain areas – like how to create engaging content on TikTok – for adding some extra skills to your toolbox. 
Start Your Brand Manager Course Today 
Are you passionate about digital creativity and eager to transform that into a rewarding career as a brand manager? Online Courses Australia is your starting point, accessible right from your own home
Skills That Stand Out
Our courses teach you hands-on skills and crucial insights for making your mark in the world of brand management. Whether it's about developing compelling brand strategies, understanding market trends, or creating impactful marketing campaigns, we're here to guide you.
Learn on Your Terms
Got a packed schedule? No stress. Our courses are designed to adapt to your lifestyle, whether you're balancing work or other responsibilities. Forget the daily commute – first-class training is just a click away.
Kickstart Your Brand Manager Career
Ready to make waves in the advertising world? Your career path starts here with Online Courses Australia. 
Social Media & Digital Marketing Masterclass Info Pack Download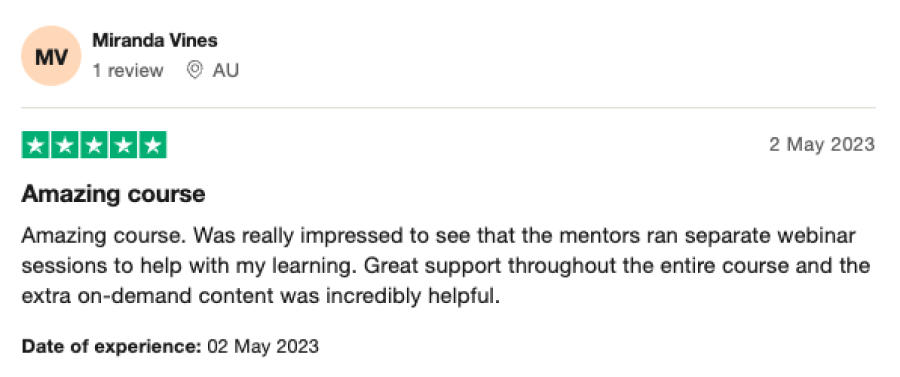 If you have additional questions about our courses that cover more than 20 different professional industries: 
Related Courses & Roles
If you have a genuine passion for social media and marketing, the industry offers a wealth of career options. Here are some related courses and roles to check out:
---
Start a Career in Social Media Marketing Today!