There are numerous ways to kickstart your journey as a beauty therapist—from online beauty courses to work experience, there are many paths you can take to arm yourself with the essential skills you'll need to excel right out of the gate.
Read on to discover exactly how to become a beauty therapist in Australia, including the skills you'll need to ace it, and how to prepare yourself to enter this dynamic field.
Beauty Therapist Overview
As a beauty therapist, you'll be the go-to person for more than just a quick fix—you'll be a day-maker. Specialising in non-medical treatments for skin, hair, and nails, you get to turn each client's salon visit into a little oasis of relaxation and self-care. Whether it's for a quick brow tidy or an all-out spa day, the aim is always the same: to make every appointment feel like a mini-holiday.
Day in the Life of a Beauty Therapist 
A beauty therapist's day is filled with client appointments, each one an opportunity to assess needs and deliver treatments that make clients look and feel their best. Starting off in salons or spas, many beauty therapists eventually find their niche or even strike out on their own.
Here are some key tasks and responsibilities for a beauty therapist:
Client Consults: Chatting with clients to understand what they're looking for and how you can help them achieve it.
Skin and Beauty Analysis: Assessing a client's skin type and beauty needs to tailor the perfect treatment.
Face and Body Treatments: Delivering treatments that rejuvenate the face and body, from facials to massages.
Hair Removal: Taking care of unwanted hair, whether it's a quick eyebrow shape or a full Brazilian wax.
Admin Duties: Keeping track of appointments, managing client records, and handling other behind-the-scenes tasks.
Client Relationship Management: Building and maintaining strong relationships with clients to keep them coming back.
Up-Selling and Product Sales: Recommending additional treatments or products that can enhance the client's beauty regimen.
Beauty Therapist Skills
Stepping into the role of a beauty therapist isn't just about mastering specific techniques or knowing your products—it's a blend of soft and hard skills that set you apart as a professional.
Beauty Therapist Soft Skills
Communication Skills
Customer Service
Attention to Detail
Time Management
Stress Management
Sales Skills
Teamwork
Hard Skills for Beauty Therapists
These are the skills you'll learn when undertaking a beauty course (like OCA's Beauty Business Bundle). 
Technical Expertise: Mastery of treatments like facials, massages, and hair removal is a given.
Product Knowledge: Understanding the ingredients and benefits of products allows you to provide educated recommendations.
Sanitisation and Hygiene: Strict adherence to cleanliness guidelines protects both you and your clients.
Skin Analysis: Being able to assess different skin types and conditions helps tailor treatments effectively.
Appointment Scheduling: Familiarity with scheduling software keeps the salon running smoothly.
Business Management: Especially important for those planning to run their own salon or freelance business. This encompasses everything from financial planning and marketing to employee management and compliance with regulations.
Record-Keeping: Managing client profiles, treatment histories, and consent forms is essential for both safety and service.
How Much Can You Earn as a Beauty Therapist?
According to Labour Market Insights Australia, beauty therapists earn $62,400 a year on average. 
However, the more you invest in honing your skills and expanding your beauty knowledge, the higher your earning potential climbs. 
Whether it's through continued education or specialising in sought-after skills like eyelash extensions or makeup artistry, the sky's the limit when it comes to boosting your income.
Beauty Therapist Employment Outlook 
Recent employment projections by the JSA show the beauty sector is on the upswing.
The industry is expected to see robust growth over the next few years, making it a promising field for aspiring beauty therapists.
By 2026, the number of workers in the industry is projected to reach an impressive 42,400.
So, what does this mean for you? Well, if you're contemplating a career as a beauty therapist, the timing couldn't be better. The demand for skilled professionals is on the rise, and there's ample room for both newcomers and seasoned pros to make their mark.
How to Become a Beauty Therapist 
If you're keen on making people look and feel their best, a career as a beauty therapist might be your calling. The good news is there are several pathways to gain the skills and experience you need to thrive in the beauty industry. 
Online Courses: The digital age makes it easier than ever to study beauty therapy from the comfort of your home. OCA's courses offer top-notch training combined with flexibility, allowing you to balance learning with other life commitments.
Micro-Credentials: Another avenue that's gaining traction is micro-credentials. These are shorter, specialised courses that allow you to focus on specific areas within beauty therapy. Whether it's mastering the art of makeup fundamentals or eyelash lift and tint courses, micro-credentials offer a way to upskill quickly. They're also a great way to keep your skill set current, making you more marketable in a constantly evolving industry.
Work Experience: Work experience is a great way to get your foot in the door. Not only does it offer a deep dive into the industry, but it could also be your stepping stone to an apprenticeship or even full-time employment.
10 reasons why beauty courses are often best done online!
Reason #1 - Convenience & Flexibility
Whether taking a diploma in beauty therapy or OCA's Beauty, Lifestyle & Leisure Courses, the online learning experience is about convenient and flexible as it gets. After enrolling, you get to choose when and where you learn, with just an internet-connected device needed.
Reason #2 - Learn at Your Own Pace
As you'll find when taking a classroom-based Certificate III TAFE course in beauty treatments, it's a bit like being in high school - meaning you have to learn at everyone's pace. Beauty course online, however, is taken at your own pace, meaning you take things as quickly or as slowly as suits you.
Reason #3 - Access to Industry Experts
If you were to learn to be a beauty therapist in person, you do, in truth, get hands-on experience. That said, you only get access to the combined knowledge of your tutors. However, as students taking OCA beauty training find, they get access to industry experts.
For example, those wanting to start their own business with our beauty course online get 1-to-1 mentoring from renowned beauty entrepreneur Melanie Burnacle. Access to people like this can be invaluable when planning to be your own boss and it's support every OCA student gets.
Reason #4 - It's Much More Affordable!
When you train to be a beautician or in makeup artistry full-time in a classroom setting, it costs you more. You see, every beauty school needs to provide a venue, equipment, lighting, tools...and the list goes on. Beauty courses are online, however, so it's far easier on the wallet!
Reason #5 - You Learn All the Latest Techniques and Trends
The great thing about the best beauty courses online is that they're constantly updated with the latest best practices and techniques. This is great because beauty services are constantly changing, with new procedures and beauty products appearing constantly.
Reason #6 - Better Job Opportunities
If you're someone who's dedicated to their own professional development, any courses you put on your CV are going to increase the career opportunities you get. Employers look for self-determining people who take the trouble to learn in their own time. OCA's even offer you CPD points which make you even MORE employable!
Reason #7 - Not Having to Buy a Kit!
When you start your beauty career at an in-person beauty school, you typically have to buy your kits out of your own pocket. However, with OCA's Beauty Business Bundle, you get a lash kit and makeup artistry kit (worth hundreds of dollars!), meaning you keep hold of your cash!
Reason #8 - Support When You Need It
If you're a busy person, you might find that you're learning how to become a nail technician, manicure, or pedicure specialist in the evening or at weekends, so what happens if you get stuck? Actually, it's not an issue with the OCA beauty course online, as every student enjoys 24/7 tutorial support when they need it, so you'll always have a way to get help.
Reason #9 - Lifetime Access to Course Materials
Another great thing about beauty courses online with OCA is that you get lifetime access to every course you enrol in. So, whether you're taking nail art training or learning spa treatments, you can refer back whenever you like to refresh your memory on any of the techniques covered.
Reason #10 - You'll Earn More Money!
If the previous 9 reasons weren't sufficient to convince you of the wisdom of taking online beauty courses, then how about this one? You'll earn more money! Of course, it's not the only motivation for a career in beauty, but the more skills and techniques you acquire, the more you'll be able to charge. Not a bad reason to engage in further learning, right?
Start Your Beauty Course Today
Turn your passion for beauty into a rewarding career. With Online Courses Australia, you can immerse yourself in the crucial skills and expertise needed for beauty therapy, all from the comfort of your home.
Our courses equip you with the practical abilities and foundational knowledge you'll need to succeed in the beauty industry. Whether you're learning the basics of skincare or mastering advanced treatment techniques, we've got you covered.
Designed to accommodate both part-time and full-time schedules, our courses fit your lifestyle. Forget the inconvenience of long commutes or fulfilling prerequisites; world-class beauty education is just a click away.
Ready to make waves in the beauty therapy industry? Kickstart your journey today with Online Courses Australia.
Beauty Business Bundle Info Pack Download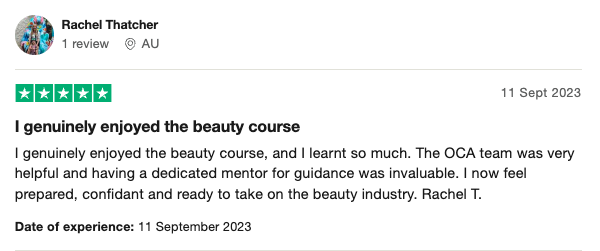 If you have additional questions about our beauty courses or our full range of courses that cover more than 20 different professional industries: 
Related Courses & Roles 
There are countless job opportunities and career paths to take in the beauty industry. Here are some related beauty courses we think you'll love! 
Check out these beauty, lifestyle & leisure courses:
Read More
---
Start a Career in Beauty Business Today!