OCA takes home the WIN at the Docebo Inspire Learning Awards! Every year, the Docebo Inspire Learning Awards spotlights the remarkable contributions of educational institutions that invest in their learning programs. These awards acknowledge the unsung mentors, educators, creators, and visionaries who tirelessly work behind the scenes to shape the educational journeys of countless students. 
OCA's Takes home the gold! This is more than just a feather in our cap (Akubra)! 
It's a testament to our dedication to education and our students. This prestigious award not only recognises but celebrates OCA's exceptional commitment to providing high-quality online education. It shines a spotlight on our ability to stand shoulder-to-shoulder with the industry's best, and we couldn't be more thrilled!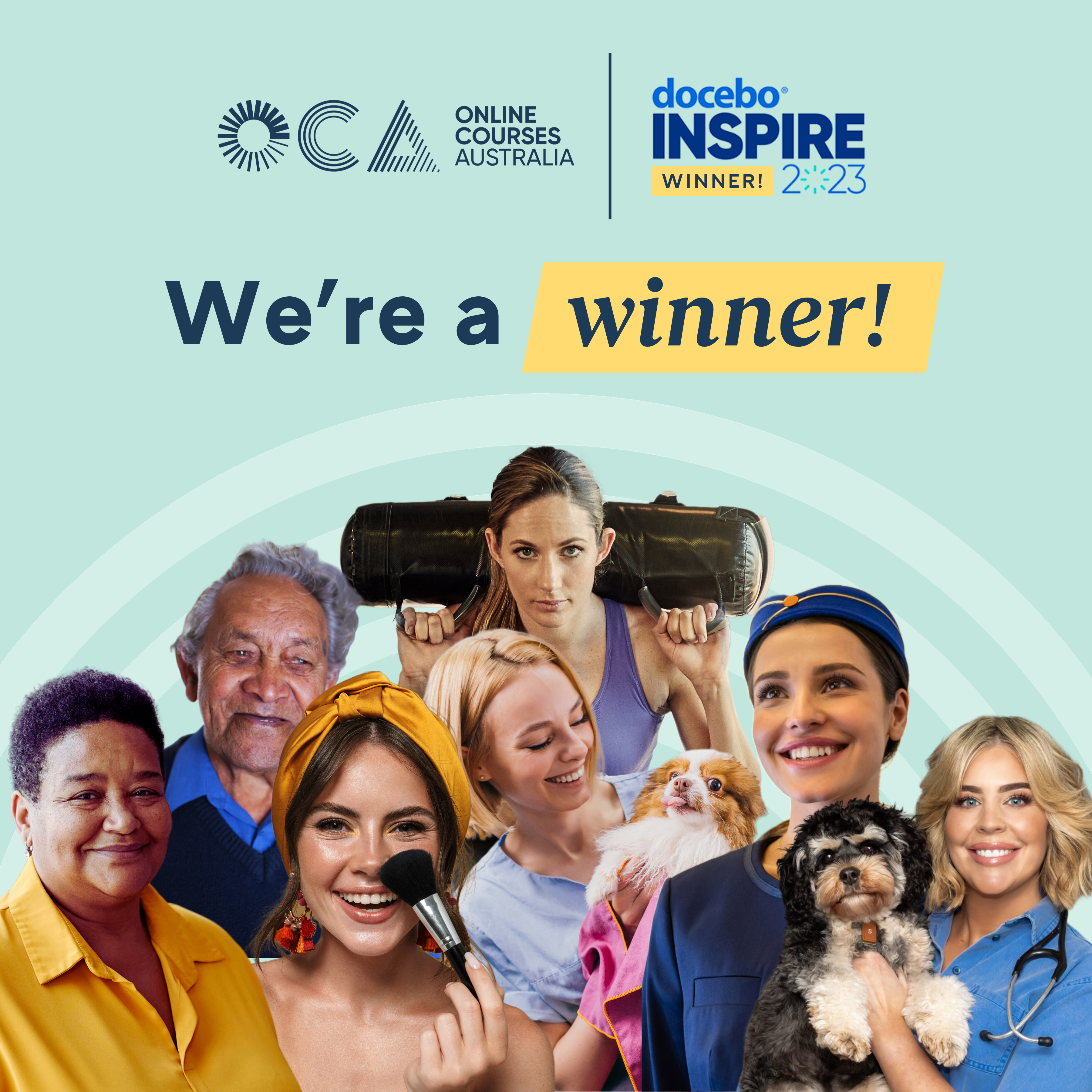 In online education, standing out requires more than merely offering an online course; it demands a profound understanding of learner's needs, a keen eye for emerging market and educational trends, and a continuous drive to refine new and innovative teaching methods. With its innovative approach to course design, engagement with on-demand content, and real-world industry mentors, OCA has positioned itself as a frontrunner in digital education. 
We keep growing our offering, introducing Careers by OCA, Online Courses Australia NEW jobs portal. Sign up for free job alerts, Air CV, direct links to local and national employers, and more! If you'd like to discuss this further, we are currently offering complimentary career calls to discuss the best course options for you, with no pressure or hidden costs involved. Alternatively, to explore our entire course library that covers more than 20+ industries, visit us now at www.onlinecoursesaustralia.edu.au, where you'll also find our flexible payment options tailored to your convenience.
The Online Courses Australia team is here to support your aspirations and help you achieve your educational and career goals!
The Online Courses Australia team!
---
Enrol In Our Leadership & Mindset Course!