To start a fulfilling job in the aged care industry, it's essential to be compassionate and patient. While having some level of study under your belt, like an aged care course, is important, what really counts is your knack for offering both personal care and emotional support to older people.
Read on to uncover the current Australian aged care job landscape, and figure out the best steps to kick-start your carer career. Whether you're eyeing roles in residential aged care or home care, there's no shortage of opportunities for dedicated support workers.
Find out what it takes to excel in aged care services with OCA's aged care career sampler. 
Aged Care Worker Overview
Aged care workers in Australia are crucial for supporting the country's ageing population. They help with daily tasks like cooking and cleaning, as well as personal care and emotional support. These support workers also assist elderly people in staying socially connected, whether they're working in residential care or offering home care. With a high demand for their skills, it's a rewarding career path with ample job opportunities.
Day in the Life of an Aged Care Worker 
A typical day for an aged care worker in Australia is both busy and rewarding, filled with tasks that make a significant difference in the lives of elderly individuals.
Typical Daily Duties
Assist clients with personal care tasks like showering and dressing.
Prepare and serve nutritious meals, taking into account any dietary needs.
Administer prescribed medications and conduct basic healthcare checks.
Engage in social activities with clients to keep them mentally and physically active.
Provide emotional support through companionship and conversation.
Assist with transportation for medical appointments or community events.
Perform light housekeeping tasks such as cleaning, laundry, and dishwashing.
Update client records, noting any changes in medication, mood, or overall health.
Coordinate with other support workers or healthcare professionals to ensure consistent care.
Each day is a mix of personal care, healthcare, and emotional support, aimed at enhancing the quality of life for elderly people. Whether in a residential aged care facility or a client's home, the role is versatile and impactful.
Aged Care Worker Skills
Thinking about diving into a career as an aged care worker in Australia? This rewarding path requires a unique blend of both hard and soft skills.
Aged Care Worker Soft Skills
Empathy
Patience
Communication Skills
Emotional Intelligence
Problem-Solving
Hard Skills for Aged Care Workers
Healthcare Basics: Understanding of vitals, medication administration, and first aid.
Nutrition Knowledge: Ability to plan and prepare meals that meet specific dietary needs.
Transportation: Familiarity with assisting clients in safe and efficient travel to and from appointments or social activities.
Record-Keeping: Accurate and consistent documentation of client care, including healthcare data and daily activity logs.
Technological Skills: Basic computer skills for record-keeping, scheduling, and perhaps using specialised healthcare software.
How Much Can You Earn as an Aged Care Worker?
According to Labour Market Insights Australia, the average wage for aged and disabled support workers is around $70,000. 
However, there is the potential to earn more when you undertake further study, for example, an allied health assistance course may boost your earning potential. 
Aged Care Worker Employment Outlook
JSA produces employment projections to show where likely future job opportunities may be. 
The latest data shows the number of aged care workers is expected to grow very strongly, and is likely to reach 341,800 by 2026.
This means there's never been a better time to start your career in aged care work, with ample job opportunities now and into the future.  
How to Become an Aged Care Worker
If you're considering a career as an aged care worker in Australia, there are various paths to get you there, making it easier than ever to enter this high-demand field.
Online Courses: Platforms like Online Courses Australia offer specialised courses geared towards budding aged care workers. These online courses cover a range of topics, from essential healthcare tasks to providing emotional support to elderly clients. This option is especially convenient if you're juggling other commitments, as you can study at your own pace.
Micro-Credentials: For those looking to focus on specific areas within the sector, aged care micro-credentials are a quick way to gain specialised knowledge. Whether it's honing in on personal care, community care, or mental health, these bite-sized courses can give you the targeted skills you need.
Volunteer: Gaining hands-on experience through volunteering is an invaluable way to get a feel for the role. Whether at a residential aged care facility or in a community care setting, volunteering allows you to apply theoretical knowledge in a real-world environment, and it's a great addition to your resume.
Start Your Aged Care Worker Course Today 
Why wait to make a tangible difference in the lives of older people? With Online Courses Australia, you can dive into the world of aged care work straight from the comfort of your own home.
A Curriculum that Works for You
Our courses are tailored to give you both the practical skills and foundational knowledge you need to excel in the aged care sector. Whether you're interested in residential care, home care, or community services, we've got a course that suits your career aspirations.
Flexibility on Your Terms
Designed to fit both part-time and full-time schedules, our courses adapt to you. No need for long commutes or meeting specific prerequisites; quality aged care training is now accessible at your fingertips.
Your Journey Starts Today
If you're keen to have a meaningful impact in the aged care sector, why not start today? With Online Courses Australia, you're not just learning—you're preparing for a rewarding career that's in high demand, particularly in Australia's ageing population landscape. So, are you ready to make a difference? Your journey as an aged care worker starts today.
Aged Care Bundle Info Pack Download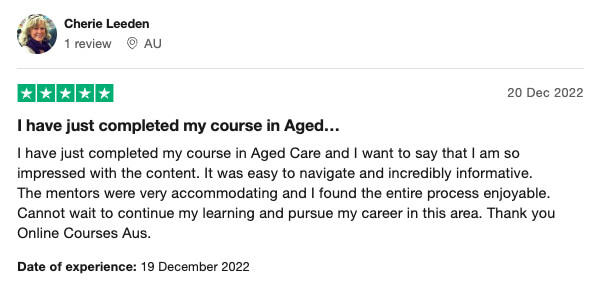 If you have additional questions about our aged care courses or our full range of courses that cover more than 20 different professional industries: 
Related Courses & Roles
If you have a genuine passion for helping others, the allied health and community support industry offers a wealth of career options beyond aged care work.  
Here are some related courses and roles to check out:
Read More
---
Start a Career in Aged Care Today!