If you've ever been interested in a career in allied health or aged care and community, becoming a mortuary assistant in Australia could be a unique and rewarding path to consider.
While not for everyone, the role offers a mix of scientific know-how and people skills, all wrapped up in a work environment that's both challenging and fulfilling.
Mortuary Assistant Overview
When people think of funeral services, they often picture the funeral director leading the ceremony. However, behind the scenes, a mortuary assistant plays a critical role, making sure everything runs smoothly from the moment a person passes away until their final farewell.
A mortuary assistant, sometimes known as a mortuary technician, has a diverse range of responsibilities. These include preparing the body for post-mortem examinations, assisting in embalming procedures, and even helping pathologists and coroners during autopsies. You'll also be involved in administrative tasks like paperwork and may assist funeral directors in making funeral arrangements.
Day in the Life of a Mortuary Assistant 
The life of a mortuary assistant is far from monotonous. From assisting in embalming to managing funeral arrangements, your day can be filled with a variety of tasks that require both hands-on skill and strong communication skills.
Key Tasks and Responsibilities for a Mortuary Assistant
Inventory Check: Ensure that all supplies needed for embalming, cremation, and other post-mortem procedures are well-stocked.
Paperwork: Filing important documentation related to funeral services, postmortem examination reports, and liaising with funeral directors.
Assisting Pathologists and Coroners: A crucial part of your role may involve assisting during autopsies, requiring a strong stomach and meticulous attention to detail.
Embalming: Prepare bodies for viewings or burials. This involves sanitising, restoring, and preserving the deceased.
Consult with Funeral Directors: Discuss any special funeral arrangements, upcoming services, and vacancies for part-time or full-time roles.
Family Liaison: Employ excellent communication skills in discussions with the deceased's family, helping them understand the processes and options available to them.
Cleaning and Sterilising: End the day by ensuring all equipment and workspaces are clean and sterilised for the next day's activities.
On-Call: Depending on the job outlook and specific funeral home's needs, you might be required to be on-call for any emergencies or last-minute tasks.
Mortuary Assistant Skills
Becoming a mortuary assistant isn't just about mastering a specific set of tasks. The role demands a combination of both hard and soft skills that are crucial for managing the variety of responsibilities and emotional scenarios you're likely to encounter.
Mortuary Assistant Soft Skills
Empathy
Communication Skills
Attention to Detail
Emotional Resilience
Adaptability
Teamwork
Hard Skills for Mortuary Assistants
If you want to truly succeed as a mortuary assistant, a course in allied health or aged care is crucial. Here are some of the hard skills you'll need to thrive in a mortuary assistant position: 
Sanitation and Sterilisation: In an environment where you're dealing with deceased bodies, knowing how to properly clean and sterilise equipment and workspaces is non-negotiable.
Administrative Skills: Given that you'll be responsible for paperwork related to funeral arrangements and postmortem examinations, a good grasp of administrative tasks is beneficial.
Basic Anatomy and Physiology: Understanding basic human anatomy helps when assisting with autopsies or preparing bodies for viewings.
Equipment Handling: Many mortuary assistants need to operate machinery used in cremation or during an autopsy, so basic mechanical skills can be beneficial.
How Much Can You Earn as a Mortuary Assistant?
According to Labour Market Insights Australia, funeral service workers (similar to Mortuary Assistants) can make $70,500 a year on average. 
However, the more you invest in honing your skills and expanding your knowledge of health and aged care, the higher your earning potential climbs. 
Whether it's through continued education or specialising in sought-after skills like a micro-credential in caring for the elderly or working in aged care short courses, increased earning potential is available to you. 
Mortuary Assistant Employment Outlook 
JSA produces employment projections to show where likely future job opportunities may be. The latest data are for the five years from November 2021 to November 2026. Over this period, the number of workers:
is expected to grow moderately
is likely to reach 3,300 by 2026.
Recent employment projections by the JSA show the funeral industry is expected to grow in the next few years. By 2026, it's expected that there will be around 3,300  people working in this area.
So, what's the takeaway for you? Well, if you're thinking about a career as a mortuary assistant, now's a good time to start. 
How to Become a Mortuary Assistant 
Becoming a mortuary assistant involves a mix of study and hands-on experience. While the field may not require as extensive an educational background as some other careers, you'll still want to prepare thoroughly. 
Online Courses: The digital era has made it much easier to access educational resources, especially if you're juggling other life commitments alongside career development. Online platforms like OCA provide comprehensive training, allowing you to learn mortuary assistance from the comfort of your own home.
Micro-Credentials: If you're already working or are unable to commit to a long-term course, short courses or micro-credentials are an excellent alternative. These focused training sessions zero in on particular aspects of the mortuary assistant role.
Hands-On Experience: There's no substitute for hands-on experience when it comes to this line of work, which can be done alongside your studies. Many funeral homes offer internships, part-time job vacancies, or on-call roles that will give you direct insight into the daily responsibilities of a mortuary assistant.
Start Your Mortuary Assistant Career Today 
Turn your interest in aged care, allied health and sciences into a fulfilling career as a mortuary assistant. With Online Courses Australia, gain essential mortuary assistance skills from anywhere in the world.
Our courses provide you with hands-on experience and the foundational knowledge to not only succeed but thrive in the field. From learning how to deliver care services using a palliative approach to complying with infection control policies and procedures, we've got everything you need to set you up for success.
Suitable for both part-time and full-time commitments, our courses are tailored to fit your life.
Keen to get going? Start your career path with Online Courses Australia today.
Working in Aged Care Info Pack Download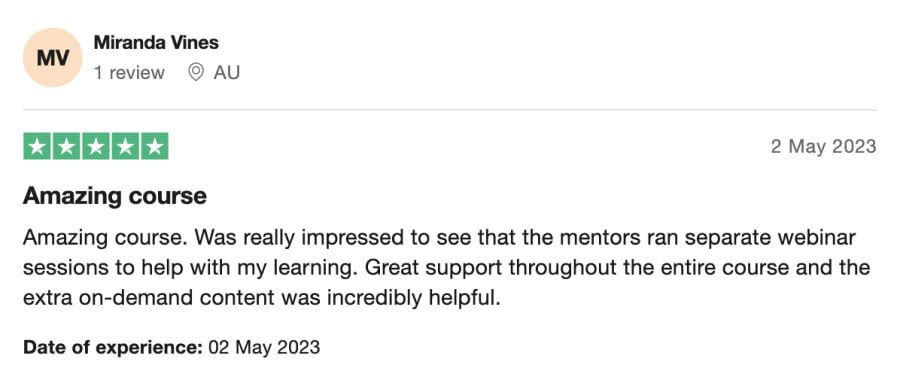 If you have additional questions about our aged care courses or our full range of courses that cover more than 20 different professional industries: 
Related Courses & Roles 
There are countless job opportunities and career paths to take in the aged care and health industry. Here are some related courses we think you'll enjoy. 
Check out these aged care courses:
---
Start a Career in Aged Care Today!