Dealing with alcohol and substance abuse can severely impact one's mental health and relationships, leaving them disconnected from family, friends, and the Australian community. To get your foot in the door in an entry-level role, enrolling in an online course or achieving some level of specialisation is often necessary.
As you gear up for this career shift, learn what life is like as an alcohol counsellor and the measures you can take to land your first job in the field.
Drug and Alcohol Counsellor Overview
A drug and alcohol counsellor focuses on providing support to individuals grappling with substance abuse issues, including alcohol dependency and drug issues. Through a combination of treatment plans and case management, they address the client's needs and mental health. 
Using interpersonal communication skills, they work to help people break the cycle of dependency, reconnect with their community, and improve their overall well-being. These professionals often collaborate with healthcare providers, social workers, and support workers to offer a comprehensive approach to alcohol abuse recovery.
Day in the Life of a Drug and Alcohol Counsellor
While no two days are the same for an AOD counsellor, here are some of the typical daily tasks you will be doing: 
Typical Daily Duties 
Client Assessment: Conduct initial evaluations to gauge the level of alcohol or substance abuse and determine client needs.
Treatment Plans: Develop and update individualised treatment plans in collaboration with healthcare providers and support workers.
Counselling Sessions: Hold one-on-one or group sessions to address issues like mental health, dependency, and coping strategies.
Case Management: Coordinate care services, including referrals to community services or specialised treatment options.
Team Collaboration: Work closely with social workers, healthcare professionals, and support workers to provide well-rounded care.
Ongoing Education: Keep up to date with the latest best practices and treatments in the fields of substance abuse and mental health.
Client Follow-Up: Regularly check in on clients' progress, adjusting treatment plans as necessary.
Drug and Alcohol Counsellor Skills
To be a successful AOD counsellor, you'll need a blend of soft skills (skills you likely already have) and hard skills (skills you'd learn from undertaking some level of study in drug and alcohol counselling). 
Drug and Alcohol Counsellor Soft SkillsEmpathy
Patience
Adaptability
Listening
Communication
Teamwork
Resilience
Analytical
Hard Skills for Drug and Alcohol Counsellors
Mental Health Assessment: Skills in evaluating adult mental health.
Diagnosis Proficiency: Ability to identify psychological problems affecting adults, including mood disorders.
Neurological Understanding: Knowledge of complex disorders and neurological illnesses.
Social Psychology: Competency in understanding the social aspects contributing to mental illness.
Emotional Intelligence: Capability to address mood disorders and emotional well-being effectively.
Holistic Health: Skills in incorporating physical, mental, and spiritual elements into recovery-focused care.
Resilience Training: Techniques for promoting learning resilience in adulthood.
Case Management: Effective planning and execution of treatment and support plans in adult mental health.
Interdisciplinary Collaboration: Ability to work with healthcare providers, social workers, and community services for comprehensive support.
How Much Can You Earn as a Drug and Alcohol Counsellor?
The average salary for a counsellor is $86,000 per year, according to Labour Market Insights in Australia. As a drug and alcohol counsellor in a similar field, you can expect to earn the same. 
However, there is the potential to earn more when you undertake further study, for example, a complementary course in allied health assistance can potentially boost your earning potential. 
AOD Counsellor Employment Outlook
The Australian job market for counsellors has been steadily growing over the past five years. 
The sector is expected to continue to grow strongly, with the number of counsellors in Australia reaching 27,800 by 2026, according to Jobs & Skills Australia.
What does this mean for you? If you're keen to get started in the healthcare and mental health industry, there's never been a better time. 
How to Become a Drug and Alcohol Counsellor 
Thinking about a career as a Drug and Alcohol Counsellor in Australia? Good news—there are various entry points to get you started in this impactful field.
Online Courses: Platforms like Online Courses Australia offer dedicated courses that cover the essentials—from mental health aspects to developing individualised treatment plans. If you've got other responsibilities, the flexibility of online learning could be a perfect fit for you.
Short Courses: These concise courses zero in on specific topics related to drug and alcohol counselling. Whether you want to learn about substance abuse or master the intricacies of case management, micro-credentials offer a focused approach.
Volunteer Opportunities: To gain real-world experience, consider volunteering in community services related to substance abuse. Spending time outside your regular job will give you a firsthand look into the profession and could be invaluable on your career path.
Each route offers unique benefits and can be adapted to suit your schedule, whether you're seeking full-time study or working around other commitments. The aim is to blend theoretical knowledge with practical experience, equipping you for a fulfilling career in Drug and Alcohol Counselling.
Start Your Online Mental Health Course Today  
Ready to channel your passion for well-being into a rewarding job? With Online Courses Australia, your pathway to becoming a drug and alcohol counsellor is accessible right from your living room.
A Curriculum Tailored for You
Our course offerings are aimed at equipping you with practical abilities and the foundational knowledge required to excel in the field. From substance abuse to mental health support, we've got the course that's right for you.
Flexible Learning to Fit Your Life
Our programs are structured for both full-time and part-time engagements, adjusting to your individual schedule. No need for long commutes or strict entry requirements; leading education is delivered right to your doorstep (no on-campus attendance required). 
Set to make a positive difference as an AOD counsellor? Your educational journey starts right now with Online Courses Australia. 
Mental Health Course Info Pack Download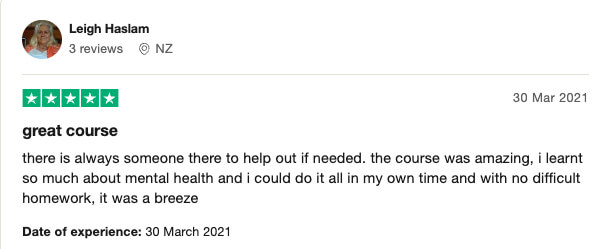 If you have additional questions about our mental health courses or our full range of courses that cover more than 20 different professional industries: 
Related Courses & Roles 
If you have a genuine passion for helping others, here are some related courses and roles to check out:
---
Start a Career in Mental Health Today!