To succeed as an Australian disability support worker, empathy and strong communication skills are essential for providing quality personal care to those in need. While study in healthcare or disability support work isn't mandatory, it can certainly enhance your career as a disability worker. 
Learn more about what it takes to be a carer worker in the disability sector, understand the daily activities involved in disability care, and find out how to become a disability support worker with online study. 
Disability Support Worker Overview
A disability support worker assists people with disabilities in their daily activities, helping improve their quality of life. This role may involve tasks like personal care, emotional support, home care, and helping with social activities. The aim is to offer tailored support services to help individuals lead fulfilling lives. Depending on the needs of the client, the support worker may also be involved in healthcare routines and might work alongside community services.
Day in the Life of a Disability Support Worker 
While no two support worker jobs are the same, here are some of the general daily tasks you can expect:
Personal Care: Assisting with bathing, grooming, and dressing.
Meal Preparation: Preparing and serving meals, ensuring dietary needs are met.
Emotional Support: Offering companionship and mental health support.
Mobility Assistance: Helping clients move around, both in and outside the home.
Medication Management: Ensuring timely medication intake and possibly administering medicines.
Social Activities: Facilitating or accompanying clients to social outings, events, or appointments.
Skill Development: Aiding in developing basic life skills like cooking or budgeting.
Physical Exercise: Encouraging and helping with light physical exercise for better health.
Transportation: Driving clients to appointments, social activities, or healthcare visits.
Housekeeping: Light cleaning and maintenance tasks to keep the living environment tidy.
Disability Support Worker Skills
Soft Skills
Empathy
Communication
Teamwork
Problem-Solving
Patience
Hard Skills 
By taking a specialised allied health course, you'll gain the practical know-how to excel in the field. You'll learn:
Health and Community Service Communication: Knowing how to convey medical and procedural information effectively.
Working with Diverse Populations: Skills to address cultural, socioeconomic, and age-related differences.
Legal and Ethical Compliance: Familiarity with regulations, including NDIS guidelines and working with children checks.
Understanding Healthy Body Systems: A basic grasp of physiology to monitor client health.
Confirming Physical Health Status: Ability to assess and report the physical well-being of clients.
Safe Work Practices: Adherence to safety guidelines for both yourself and the client during direct care.
Relationship Building: Using effective communication to establish trust and rapport with clients.
Chronic Disease Management: Tailoring support services for individuals with long-term health issues.
Quality Service Delivery: Ensuring high standards of care and client satisfaction.
Allied Health Program Assistance: Support in the execution of allied health plans, like physiotherapy or occupational therapy.
Client Rehabilitation: Aiding in physical or emotional recovery.
Client Independence and Community Participation: Strategies to promote self-sufficiency and social interaction.
Community Rehabilitation Environment: Skills to operate within a broader healthcare setting.
You'll also need a police check, first aid certificate and driver's licence to get started with your disability support work career. 
How Much Can You Earn as a Disability Support Worker?
According to Labour Market Insights, as a disability support worker, you could earn on average $72,000 per year.
Your salary will also depend on your role type (for example a team leader may earn more), as well as your employment status (self-employed disability workers may be able to charge a higher rate).
There is also the potential to earn more when you undertake further study, for example, a course in supporting ageing people with disabilities or supporting people with dementia can boost your earning potential. 
Disability Support Worker Employment Outlook 
According to Jobs and Skills Australia, employment in this field is not only expected to grow significantly but is also projected to reach 341,800 workers by 2026. 
This robust growth underscores the increasing demand for skilled disability support workers, making it a prime time to kick-start your rewarding career in this sector.
How to Become a Disability Support Worker 
If you're keen on becoming a disability support worker, there are multiple pathways to enter this rewarding career in Australia.
Online Courses: Education platforms like Online Courses Australia provide specialised courses tailored for aspiring disability support workers. These online courses in support work cover a range of skills, from emotional support to medical management and more. This flexible route is especially beneficial if you're juggling other commitments as you can learn at your own pace.
Micro-Credentials: These are essentially short courses that zero in on specific skills crucial for a disability support worker. They're a quick way to boost your expertise in areas like working with elderly people with disabilities, or how to work effectively in the community sector.
Volunteer: Volunteering in disability services or community services can offer invaluable insights and practical experience. It's a fantastic way to see firsthand what daily activities in disability support work involve, from personal care to emotional support, all while making a difference in someone's quality of life.
Start Your Disability Support Worker Course Today
Why wait to turn your compassion for helping others into a purposeful career? With Online Courses Australia, you can dive into the world of disability support work right from the comfort of your home.
A Curriculum Tailored for You
Our courses are designed to furnish you with the hands-on skills and foundational knowledge needed to thrive in disability support work. Whether you're focusing on personal care, mental health, or NDIS guidelines, we've got you sorted.
Flexibility to Suit Your Lifestyle
Our courses are structured to fit both part-time and full-time commitments. No need for commuting or fulfilling prerequisites; top-notch training is brought directly to you.
Your Journey Begins Now
Ready to make a meaningful impact as a disability support worker? Your path to a rewarding career starts today with Online Courses Australia.
Allied Health Assistance Info Pack Download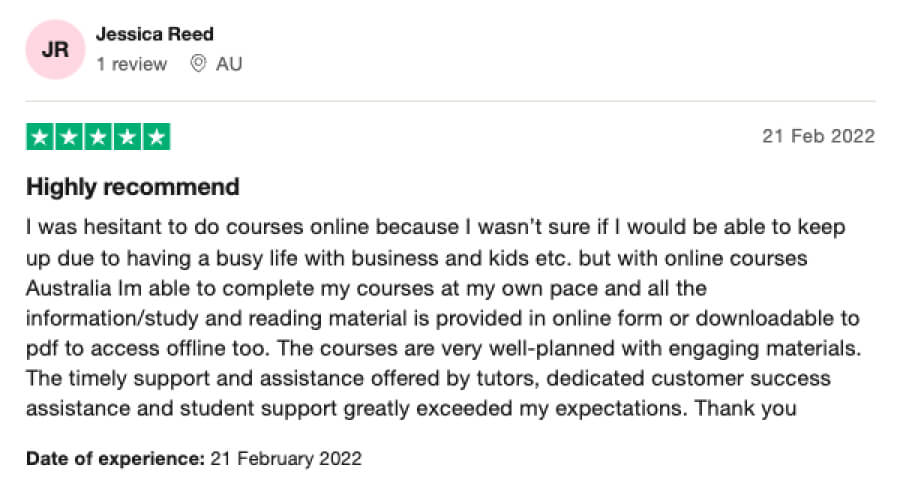 If you have additional questions about our health courses or our full range of courses that cover more than 20 different professional industries: 
Related Courses & Roles 
If you have a genuine passion for helping others, the aged care, counselling and community support sector offers a range of roles suited to you. 
Here are some related courses and roles to check out:
---
Start an Allied Health Assistance Career Today!